11 May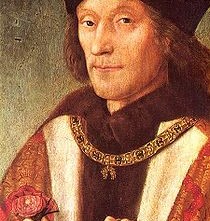 1509 – Henry VII was laid to rest next to his wife, Elizabeth of York, in Westminster Abbey. You can see pictures of their tomb and funeral effigies at http://westminster-abbey.org/our-history/royals/henry-vii-and-elizabeth-of-york
1532 – Henry VIII accused the clergy of being "scarce our subjects", and attacked their oath to the Pope.
1536 – The Grand Jury of Kent met in front of Chief Justice John Baldwin and six of his colleagues at Deptford. They met to rule on the alleged crimes committed at Greenwich Palace, East Greenwich, and Eltham Palace by Queen Anne Boleyn, Sir Henry Norris, Sir William Brereton, Sir Francis Weston, George Boleyn (Lord Rochford) and Mark Smeaton. It was ruled that the Queen and the five men would stand trial. See The Ruling of the Grand Jury of Kent and Queen Anne Boleyn's alleged crimes.
1537 - Blessed John Rochester and Blessed James Walworth, Carthusian monks from the London Charterhouse, were hanged in chains from the battlements of York. They had been tried in the city for treason for denying the King's supremacy following the Pilgrimage of Grace rebellion.
1560 – Death of Thomas Wendy, physician to Henry VIII and Queen Catherine Parr, at Haslingfield. According to martyrologist John Foxe, Wendy helped to save Catherine Parr from a plot against her. He also attended the dying King in January 1547.
1560 – Burial of John Falconer, physician and botanist, at St Stephen's Church, Coleman Street, London. Falconer. He is known as the first English person to have owned a herbarium.
1598 – Death of Edward Drew, lawyer, member of Parliament and Recorder of London, at Broad Clyst in Devon from gaol fever, which he had picked up working on the Northern Circuit. He was buried in Broad Clyst Parish Church.
1607 – Burial of Sir Edward Dyer, courtier and poet, at St Saviours, Southwark. With Philip Sidney and Fulke Greville, Dyer made up the "happy blessed Trinitie" that Sidney wrote of. His known works included the poems "The Songe in the Oke", "The lowest trees have tops" and "He that his mirth hath lost". He also dabbled in alchemy, studying under John Dee.
1610 – Death of Sir Henry Maynard, administrator. He was buried at St Mary the Virgin in Little Easton, Essex. Maynard served William Cecil, Lord Burghley, as his Chief Secretary and then, after Burghley's death, he became Secretary to Lord Admiral Nottingham.
12 May
1521 – Cardinal Wolsey announced the papal bull against Martin Luther in a ceremony outside St Paul's. Luther's books were then burned.
1536 - Mark Smeaton, Sir Henry Norris, Sir Francis Weston and Sir William Brereton were tried at a special commission of oyer and terminer, just a day after the Grand Jury of Kent had assembled, and only eight days after Weston and Brereton had been arrested. All four men were found guilty on all charges, declared traitors and sentenced to the usual traitor's death, to be hanged, drawn and quartered at Tyburn.
Click here
to read more.
1536 - Thomas Howard, 3rd Duke of Norfolk, was appointed Lord High Steward of England in readiness for ruling, as Lord President, over the trials of Anne and George Boleyn.
Click here
to read more.
1537 – John Hussey, Baron Hussey, was charged with treason, for conspiring against Henry VIII and raising a rebellion against the King in Lincoln during the Pilgrimage of Grace. Hussey was executed in Lincoln on 29th June 1537.
1538 – John Forest, a Franciscan friar, refused to recant his allegiance to Rome.
13 May
1515 – Official marriage of Mary Tudor, Queen of France, and Charles Brandon, Duke of Suffolk, at Greenwich Palace, following their secret marriage in France.
1536 – Queen Anne Boleyn's royal household at Greenwich was broken up, even though she hadn't been tried yet.
Click here
to read more.
1568 – Mary, Queen of Scots's forces were defeated at the Battle of Langside.
1619 – Funeral of Anne (Anne of Denmark), consort of James VI and I. She was buried in Henry VII's Chapel in Westminster Abbey.
14 May
1511 – Death of Walter Fitzsimmons, Archbishop of Dublin and Lord Deputy of Ireland, at Finglas, Dublin. He was buried in the nave of St Patrick's Cathedral.
1523 – Death of Nicholas Vaux, 1st Baron Vaux, courtier and soldier, at the Hospital of the Knights of St John of Jerusalem in Clerkenwell.
1571 – Matthew Stewart, Earl of Lennox and regent to James VI, held the "Creeping Parliament".
1595 – Death of Anne Fiennes (née Sackville), Lady Dacre, at Chelsea. She was buried in the More Chapel, Chelsea, next to her husband, Gregory Fiennes, 10th Baron Dacre.
1629 – Death of Jean Gordon, Countess of Bothwell and Sutherland. She is known for having been married, albeit briefly, to James Hepburn, 4th Earl of Bothwell, who went on to marry Mary, Queen of Scots. In 1573 she married Alexander Gordon, 12th Earl of Sutherland, and after his death she married Alexander Ogilvy of Boyne, the man she had been in love with before she married Bothwell.
1635 – Burial of Helena Gorges (née Snakenborg), Lady Gorges, in Salisbury Cathedral. Helena was married twice, firstly to William Parr, Marquis of Northampton (brother of Catherine Parr), and secondly to Sir Thomas Gorges, courtier.
15 May
1464 – Execution of Henry Beaufort, 2nd Duke of Somerset, immediately after the Battle of Hexham. He was buried in Hexham Abbey.
1536 - Trials of Anne Boleyn and George Boleyn in the King's Hall at the Tower of London. They were both found guilty and sentenced to death.
Click here
to read about Anne's trial and
here
to read about George's.
1537 – Thomas Darcy, 1st Baron Darcy de Darcy, and his cousin, John Hussey, 1st Baron Hussey of Sleaford, were tried for treason at Westminster after being implicated in the Pilgrimage of Grace. "Letters and Papers" recorded the verdict as guilty and the sentence was "Judgment as usual in cases of high treason. Execution to be at Tyburn." They were actually beheaded.
1555 – Death of Sir Thomas Bromley, judge. Mary I made him her first Chief Justice of the Queen's Bench, but was unhappy when Nicholas Throckmorton was acquitted in 1554.
1556 – John Knox appeared in Edinburgh to face heresy charges.
1567 – The marriage of Mary, Queen of Scots and James Hepburn, 4th Earl of Bothwell, at Holyrood.
16 May
1511 – Burial of Walter Fitzsimons, Archbishop of Dublin and Lord Deputy of Ireland, in the nave of St Patrick's Cathedral.
1532 – Resignation of Sir Thomas More as Chancellor.
1536 – Archbishop Cranmer visited Queen Anne Boleyn at the Tower of London. It is thought that his visit's purpose was to get Anne to confess to an impediment to her marriage and to consent to him dissolving her marriage to Henry VIII. This would disinherit and bastardise her daughter Elizabeth.
Click here
to read more.
1544 – Death of John Skewys, lawyer and chronicler.
1566 – Death of Patrick Ruthven, 3rd Lord Ruthven, a man who was involved in the murder of David Riccio, Mary, Queen of Scots's private secretary.
1567 – Death of Sir Anthony Browne, judge, at his home Weald Hall, South Weald, Essex. He had served Mary I as Chief Justice of the Common Pleas, but was removed from this office by Elizabeth I and made a Puisne Justice of the same court.
1568 – Mary, Queen of Scots landed at Workington after losing at the Battle of Langside.
1576 – Burial of Nicholas Bullingham, Bishop of Lincoln and Worcester. His burial was originally registered at Hartlebury (he died at Hartlebury Castle), but his tomb can now be found in the north aisle of Worcester Cathedral.
1579 – Death of George Freville, judge and 2nd Baron of the Exchequer.
1618 – Death of Dorothy Wadham (née Petre), founder of Wadham College, Oxford. She is buried in St Mary's Church, Ilminster.
1620 – Death of William Adams, navigator, in Hirado, Japan. He is thought to be the first Englishman to have reached Japan (arriving there in 1600) and was the inspiration for the character of John Blackthorne in the famous novel Shōgun.
17 May
1521 – Execution of Edward Stafford, 3rd Duke of Buckingham, for treason. Stafford was the great-grandson of Thomas of Woodstock, Edward III's youngest son, and his Plantagenet blood made him a threat to Henry VIII. In 1520, he was suspected of treason, and so Henry VIII ordered an investigation. Stafford was summoned to Court in April 1521 and arrested. He was imprisoned in the Tower of London and then tried for treason, with the charges including listening to prophesies of the King's death and plotting to kill the King. He was found guilty by a jury of his peers and executed on Tower Hill.
1536 - Archbishop Thomas Cranmer, in the presence of Sir Thomas Audley, the Duke of Suffolk, the Earl of Oxford and others, declared that the marriage between Henry VIII and Anne Boleyn was null and void.
1536 - Sir Henry Norris, Sir Francis Weston, Mark Smeaton, William Brereton and George Boleyn, Lord Rochford, were executed on Tower Hill.
Click here
to read more about the executions.
1575 – Death of Matthew Parker, Archbishop of Canterbury, at Lambeth Palace. Parker had also served Queen Anne Boleyn as chaplain, and was known for his patronage of scholars.
1581 – Death of Sir William Cordell, lawyer and Speaker of the House of Commons, at The Rolls in Chancery Lane. He was buried in Long Melford church.
1601 – Burial of Anthony Bacon in St Olave's, London. Bacon was a spy, providing intelligence for William Cecil, Sir Francis Walsingham and Robert Devereux, 2nd Earl of Essex.
1610 – Death of Gervase Babington, theologian and Bishop of Worcester. He was buried in Worcester Cathedral.