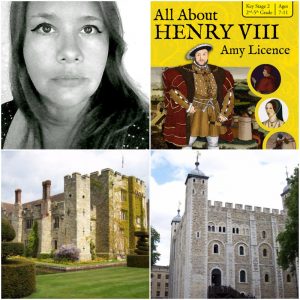 A big welcome to historian Amy Licence who is joining us today to kick off her book tour for her children's book All About Henry VIII. It's a wonderful book, as are the others in the series, and you can enter the giveaway to win a copy of this book by leaving a comment before midnight on 27th January 2017. Simply comment below this post saying which historical place linked to Henry VIII you'd like to visit and why. One comment will be picked at random and the winner contacted.
Hever Castle
Children will love this idyllic, fairy-tale little castle, set amid the rolling Kentish countryside. It's all on a small-scale, too. You cross the drawbridge, under which huge carp swarm, to enter the perfect chocolate box castle, crammed full of Tudor artefacts and dummies in costume. There are also some painful-looking instruments of torture. The grounds are very child-friendly (just watch the children near the lake), with a chess board, jousting, rose garden and, sometimes, outdoor theatre. Super shops and cafes too; enjoy the cakes and feed the ducks. The church is also worth a visit, to see Thomas Boleyn's tomb and beautiful brass memorial. You can spend a day happily here, or just a few hours, soaking up the romantic atmosphere and imagining Henry wooing Anne Boleyn among the roses. Privately owned.
Hever Road, Hever, Edenbridge, Kent TN8 7NG
http://www.hevercastle.co.uk/visit/opening-times-directions/
Hampton Court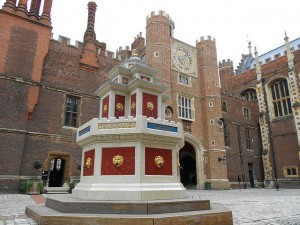 Perhaps considered the archetypal Tudor palace, Hampton Court is actually a mixture of styles and eras, making for an exciting visit. The Tudor kitchens are a must-see, with an excellent audio tour for those children old enough to appreciate it. The younger ones will have plenty to see and do though, with the displays of food, the textures, smells and (beware) the open fire. Don't miss the state apartments either, or the chapel, the tennis court, the huge vine and the banqueting house. The gardens are extensive and worth exploring, and the maze is always great fun. There are often characters in costume and the recent installation of a fountain and 3D characters dating from the 1520s Field of Cloth of Gold painting make an interesting discovery for the children. Hampton Court can get very busy and there can sometimes be a long wait in the cafes and tiltyard restaurant. If that might be an issue, there are plenty of lovely picnic spots if you go prepared. You can also order entry tickets online, with a slight discount, which also prevents having to queue. Historic Royal Palaces.
Hampton Court Road, Molesley, East Molesley, KT8 9AU
http://www.hrp.org.uk/hampton-court-palace/
Dover Castle
Dramatic and windswept, Dover Castle's geography serves as a reminder that it sits at the very tip of Henry VIII's kingdom. Take the little train around the site, as the hills can be a bit of a climb, meaning you'll only really have to walk back down hill. The keep is the main attraction, and although this has actually been restored to the time of Henry II, it is so impressive that it's worth the visit for this alone. Be warned though, the steps into the keep are very steep and uneven, not for the vertiginous. You can just go into the ground floor if you prefer, via a wooden ramp, where displays of food preparation recreate the sense of a working kitchen. This is a site that takes you through all eras of time, right to the second world war exhibition and café. There are exciting underground tunnels that you can visit on a guided tour, although the combination of darkness and sound effects might be too much for the youngest guests. Don't miss the beautiful little chapel, with its breath-taking interior and appreciate the wonderful views of the Channel. English Heritage.
Castle Hill Road, Dover CT16 1HU
http://www.english-heritage.org.uk/visit/places/dover-castle/
Hadleigh Castle
Often overlooked, Hadleigh Castle is a glorious ruin in a splendid location, overlooking the estuary in Essex. Free to visit and situated down a country lane next to a petting farm, it makes a great place for the children to roam around in warm weather. There are hills to climb, ruins to discover, wonderful views and, in the nearby country park, an Olympic bike track and iron age roundhouse. Parking can be tricky and turning is a definite challenge if you make it to the bottom of the lane, so the best place to park is at the farm and walk down. Likewise, there are no facilities at all at the castle, so food, drink and toilets are best used on the farm site. Or picnic among the ruins. Once you're on top of the castle hill though, and it's not too much of a climb, it's like being on top of the world. Henry granted it to three of his wives and used timbers from its park to build his ships. English Heritage.
Castle Lane, Hadleigh SS7 2PP
http://www.english-heritage.org.uk/visit/places/hadleigh-castle/
Windsor Castle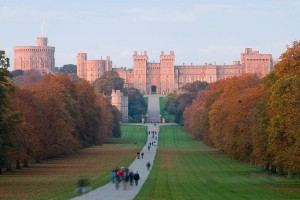 Windsor Castle scarcely needs any introduction, with its long association with the monarchy, and as Henry VIII's final resting place. Parking is a nightmare, with the closest places down by the river filling up very quickly, but buses stop almost outside and the train station is practically opposite. Situated atop a hill in the middle of the town, the castle is an easy walk across from the huddle of quaint old shops opposite, that are also worth exploring. There is so much to see, from the royal apartments to St George's Chapel, including Queen Mary's dolls house and a range of royal tombs (Henry lies under a slab in the floor.) You can get a guided tour and sometimes witness events like the changing of the guard. Combine it with a walk in Windsor Great Park and a visit to the Savill Gardens, where there is a lovely shop and café and plenty of parking. Royal Collection Trust.
Windsor SL4 INJ
https://www.royalcollection.org.uk/visit/windsorcastle
https://www.windsorgreatpark.co.uk/en
Tower of London
Set on the Thames, in London's east end, the Tower is one of the most significant historical locations of all time, let alone for Tudor events. From the prisoners who languished here, the executioner's block, the dramatic entrances and exits, attacks and revolts, and as the departure point for every coronation, the Tower is an essential place to visit. There is plenty to keep the children busy and so much to see, but some of the towers have uneven steps, so be careful and wear sensible shoes. There is no parking but Tower Hill tube station sits almost opposite the entrance. See the Tudor graffiti carved in the stone work and the modern memorial on Tower Green, as well as the crown jewels and the little chapel of St Peter ad Vincula, where the headless were buried. The beefeaters and guides are happy to chat and answer questions. Count the ravens, but don't take any home with you! Buy your tickets online in advance as the queues can be horrific. Historic Royal Palaces.
St Katharine's and Wapping EC3N 4AB
http://www.hrp.org.uk/tower-of-london/visit-us/tickets-and-prices/#gs.M1gBmxs
Eltham Palace
A wonderful eclectic mix of the medieval and modern, Eltham Palace was Henry's home as a child, along with his two sisters. Here, he was taught his lessons, and was visited by the humanist scholar Erasmus. Much of the interior was redecorated in the art deco style by the Courtauld family but the magnificent great hall, built by Henry's grandfather, Edward IV, is still preserved in good condition with its hammer-beam ceiling and minstrels' gallery. Explore the gardens too, especially the rock garden, which will delight children with its little streams and waterfalls feeding into the moat. There is an outdoor playground too and a greenhouse-style café. There's a medieval dressing-up box and a place to leave buggies and prams, which aren't allowed in the house. English Heritage.
Court Yard, Eltham, Greenwich, London SE9 5QE
http://www.english-heritage.org.uk/visit/places/eltham-palace-and-gardens/

Westminster Abbey
The location of Henry's coronation with Catherine of Aragon, Westminster Abbey was part of the complex old Westminster Palace. Henry was familiar with the palace from his youth, until it burned down in 1513, and he sought another London base elsewhere. It is also the place where his father built the beautiful Lady Chapel, where Henry's parents now lie entombed under a splendid Renaissance sculpture. Allow plenty of time to see all the royal and famous graves in the various side chapels, poets' corner, museum, the crypt and the cloisters. Still a working church, you'll have to fit your visit around services and beware of steps and dimly lit areas. The Abbey does not recommend visits from pre-school children.
London SW13 3PA
http://www.westminster-abbey.org/visit-us
Leeds Castle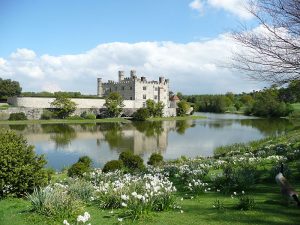 Just like Hever, Leeds Castle is one of those fairy-tale castles, picture-perfect, sitting in its own moat amid beautiful grounds. The carpark is a little walk away so take the children on the train right up to the castle, and get some great views of the park. Inside, there is a short flight of steep steps but this is just for the initial entrance and worth persisting with in order to enjoy the castle. Some rooms are reconstructed in a medieval style, while others represent early twentieth century living. You can watch the hawking and birds of prey, go on nature trails, boat rides, and take part in many events including medieval markets, archery, film screenings, fireworks and concerts. There is a children's playground and café at the end of the long walk, but also a good food court, with a formal restaurant, Costa outlet and fish and chip shop. Privately owned.
Maidstone ME17 1PL
https://www.leeds-castle.com/home
Penshurst Place
A gem of a house set in the countryside outside Tunbridge Wells, Penshurst was used by Henry VIII as a hunting lodge, before he bestowed it on Anne of Cleves as part of her divorce settlement. After that, it passed into the hands of the Sidney family, who still own it today. The famous Elizabethan poet, Sir Philip Sidney, was born here. The house is lavishly decorated inside, capturing a sense of late medieval and Tudor life, especially in the atmospheric Baron's Hall and crypt. The lovely pages' room, long gallery and solar give a sense of the house through the ages, with lots to see. Children are well catered for with the adventure playground, maze, toy museum and woodland trail. There are also a couple of good eating places, serving full meals or snacks. Privately owned.
Penshurst, Tonbridge, Kent TN11 8DG
https://www.penshurstplace.com/
Look out for Amy's other booktour stops with great articles and more chances to win a copy of her book: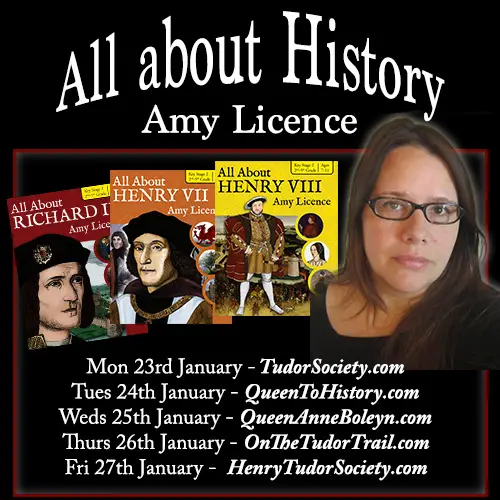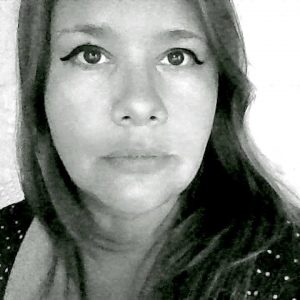 Amy Licence is an historian of women's lives in the medieval and early modern period, from Queens to commoners. Her particular interest lies in the late fifteenth and early sixteenth century, in gender relations, Queenship and identity, rites of passage, pilgrimage, female orthodoxy and rebellion, superstition, magic, fertility and childbirth. She is also interested in Modernism, specifically Woolf and the Bloomsbury Group, Picasso and Post-Impressionism.
Amy has written for The Guardian, The TLS, The New Statesman, BBC History, The English Review, The Huffington Post, The London Magazine and other places. She has been interviewed regularly for BBC radio, including Woman's Hour, and made her TV debut in "The Real White Queen and her Rivals" documentary, for BBC2, in 2013. She also writes literary fiction and has been shortlisted twice for the Asham Award.
Her website can be found at amylicence.weebly.com/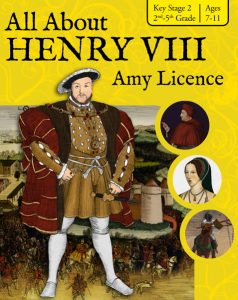 MadeGlobal's "All About" series is the perfect choice for anyone who wants to know more about the key characters of history. The books are colourfully illustrated throughout, have a simple narrative to explain the key points in the character's life and more detailed sections for the more-able reader or teacher. The book also contains a section of thought-provoking questions which can be used to further discussions about history.
Henry VIII is probably the most famous Tudor. He was a handsome, athletic young man; he never expected to become king and so was determined to enjoy his reign. Henry had six wives but could hate as passionately as he loved. He even had two wives executed. Henry surrounded himself with extraordinary men, including Cardinal Wolsey and Thomas Cromwell, and, during his reign, he changed religion forever in England. His son and daughters went on to be famous monarchs too.
Why did Henry have so many wives? Why was his reign so important?
Read the facts about Henry VIII in this book and make up your own mind.
Paperback: 42 pages
Age Range: 7 years and up
Publisher: MadeGlobal Publishing
Language: English
ISBN-10: 8494593749
ISBN-13: 978-8494593741
Amazon UK: http://amzn.to/2cCrWqG
Amazon US: http://amzn.to/2iRqfGw