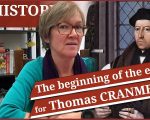 On this day in Tudor history, 4th December 1555, in Rome, papal sentence was passed on Thomas Cranmer, resulting in Cranmer being deprived of his archbishopric. Permission was also granted for his fate to be decided by the secular authorities.
In today's "on this day in history", I explain what led Cranmer to this day and also what happened next. Thomas Cranmer went on to recant his Protestant faith on several occasions, but was still executed by being burned at the stake. Why?
Find out more in today's talk.
[Read More...]