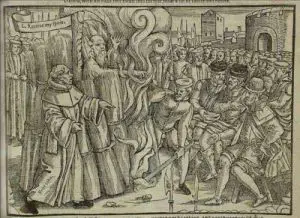 On this day in history, Archbishop Thomas Cranmer was burned at the stake in Oxford. He had recanted his Protestant faith five times, but it didn't stop his execution from being scheduled.
On the day of his execution, Cranmer was taken to the University Church Oxford to make a final public recantation. He agreed to this, but after praying and exhorting the people to obey the King and Queen, he renounced his recantations and professed his true Protestant faith. He vowed that his right hand, the hand that he had used to write his recantations which were "contrary to the truth which I thought in my heart, and written for fear of death, and to save my life", would be the first part of him burned in the fire.
He was dragged from the pulpit and out to the stake. Here are two accounts of his execution. The first one is an eye-witness account written by a "J.A." in a letter, and the second is from martyrologist John Foxe.
"Coming to the stake with a cheerful countenance and willing mind, he put off his garments with haste, and stood upright in his shirt; and a bachelor of divinity, named Elye, of Braze-nose College, laboured to convert him to his former recantation, with the two Spanish friars. But when the friars saw his constancy, they said in Latin to one another "Let us go from him; we ought not to be nigh him, for the devil is with him." But the bachelor in divinity was more earnest with him; unto whom he answered, that, as concerning his recantation, he repented it right sore, because he knew it was against the truth, with other words more. Whereupon the Lord Williams cried, "Make short, make short." Then the bishop took certain of his friends by the hand. But the bachelor of divinity refused to take him by the hand, and blamed all the others that so did, and said, he was sorry that ever he came in his company. And yet again he required him to agree to his former recantation. And the bishop answered, (shewing his hand), "This is the hand that wrote it, and therefore shall it suffer first punishment."
Fire being now put to him, he stretched out his right hand, and thrust it into the flame, and held it there a good space before the fire came to any other part of his body; where his hand was seen of every man sensibly burning, crying with a loud voice, "This hand hath offended." As soon as the fire got up, he was very soon dead, never stirring or crying all the while.
His patience in the torment, his courage in dying, if it had been taken either for the glory of God, the wealth of his country, or the testimony of truth, as it was for a pernicious error, and subversion of true religion, I could worthily have commended the example, and matched it with the fame of any father of ancient time; but, seeing that not the death, but cause and quarrel thereof, commendeth the sufferer, I cannot but much dispraise his obstinate stubbornness and sturdiness in dying, and specially in so evil a cause. Surely his death much grieved every man; but not after one sort. Some pitied to see his body so tormented with the fire raging upon the silly carcass, that counted not of the folly. Other, that passed not much of the body, lamented to see him spill his soul, wretchedly, without redemption, to be plagued for ever. His friends sorrowed for love, his enemies for pity; strangers for a common kind of humanity, whereby we are bound one to another."
John Foxe:
"With thoughts intent upon a far higher object than the empty threats of man, he reached the spot dyed with the blood of Ridley and Latimer. There he knelt for a short time in earnest devotion, and then arose, that he might undress and prepare for the fire. Two friars who had been parties in prevailing upon him to abjure, now endeavoured to draw him off again from the truth, but he was steadfast and immoveable in what he had just professed, and before publicly taught. A chain was provided to bind him to the stake, and after it had tightly encircled him, fire was put to the fuel, and the flames began soon to ascend. Then were the glorious sentiments of the martyr made manifest;—then it was, that stretching out his right hand, he held it unshrinkingly in the fire till it was burnt to a cinder, even before his body was injured, frequently exclaiming, "This unworthy right hand!" Apparently insensible of pain, with a countenance of venerable resignation, and eyes directed to Him for whose cause he suffered, he continued, like St. Stephen, to say, "Lord Jesus receive my spirit!" till the fury of the flames terminated his powers of utterance and existence. He closed a life of high sublunary elevation, of constant uneasiness, and of glorious martyrdom, on March 21, 1556."
Members can read a bio of Thomas Cranmer in Claire's article The King's Men - Thomas Cranmer, Archbishop of Canterbury.
You can read more about Cranmer in the following articles, here and over at The Anne Boleyn Files:
You can read more about his life in Beth von Staats' book Thomas Cranmer in a Nutshell and Diarmaid MacCulloch's biography Thomas Cranmer: A Life.
Notes and Sources
Foxe, John, Foxe's Book of Martyrs, Chapter on Archbishop Cranmer.
Strype, John, Memorials of the Most Reverend Father in God Thomas Cranmer: Sometime Lord Archbishop of Canterbury...