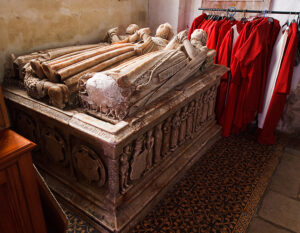 On this day in Tudor history, 5th (or 6th) September 1558, in the reign of Queen Mary I, judge, legal writer and Speaker of the House of Commons Sir Robert Broke died at a friend's house in Patshull, Staffordshire.
Broke was buried in All Saints Church, Claverley, Shropshire.
Broke's other offices included Deputy Chief Steward for the Duchy of Lancaster, Serjeant-at-Law and Chief Justice of the Common Pleas.
Here are some facts about Sir Robert Broke:
His birthdate is not known, but he was born before 1515.
Broke was the eldest son of Thomas Broke of Claverley in Shropshire and his wife, Margaret Grosvenor of Farmcote in Shropshire.
He was educated at Strand Inn and then the Middle Temple, where he became a bencher in 1542, an autumn reader in 1542 and a Lent reader in 1551.
In July 1536, Broke was appointed Common Serjeant and then Recorder of London in 1545.
In 1544, Broke purchased the manor of Madeley in Shropshire, although he spent most of his time in London. He also owned the manor of Lapley in Staffordshire.
In November 1545, Broke was also elected to Parliament and granted the Freedom of the City of London as a member of the Mercers' Company.
In Henry VIII's reign, Broke also served as a Justice of the Peace for Shropshire, a commissioner for heresies from 1541, a commissioner for chantries in 1546, and deputy chief steward of the duchy of Lancaster in the north parts from 1545 until his death.
Following the accession of Edward VI, Broke was re-elected to the king's first parliament. He served as a Justice of the Peace
for Middlesex from 1547 until his death, and served on several commissions, e.g. relief and ecclesiastical law.
In 1554, following the accession of Mary I, Broke, who was a Catholic, was appointed Speaker of the House of Commons and Chief Justice of the Common Pleas.
In January 1555, Broke was knighted.
Brooke died on either the 5th or 6th September 1558 while visiting friends in Staffordshire. His tomb inscription states 6th, but his inquisition post mortem states 5th. He was buried in the Gatacre chancel in Claverley Church, where his tomb depicts him in the robes of chief justice, along with his wives and children. An inscription on his tomb describes Broke as "famous in his time for virtue and learning".
Brooke was married twice. His first wife was Anne Waring, daughter of Nicholas Waring and widow of Nicholas Hurleston. They had at least three sons and one daughter together before Anne's death in 1531/2. His second wife was Dorothy Gatacre, daughter of William Gatacre, with whom Broke had at least five sons and five daughters. Broke left a third of his lands, including Madeley and Lapley, to Dorothy, and then John and Richard, the eldest sons of each of his marriages, inherited the remainder of his estates. Broke also had three other children.
Also on this day in Tudor history...
Image: Tomb of Sir Robert Broke at All Saints Church, Claverley, with effigies of him, two wives, and their children as weepers around the sides of the tomb. © Copyright Mike Searle and licensed for reuse under Creative Commons Licence, Geograph - https://www.geograph.org.uk/photo/3422614
Notes and Sources
Miller, H. "BROKE, Robert (by 1515-58), of London", The History of Parliament - http://www.historyofparliamentonline.org/volume/1509-1558/member/broke-robert-1515-58
Baker, J. (2008, January 03). "Broke, Sir Robert (d. 1558), judge, legal writer, and speaker of the House of Commons". Oxford Dictionary of National Biography - https://www.oxforddnb.com/view/10.1093/ref:odnb/9780198614128.001.0001/odnb-9780198614128-e-3497.