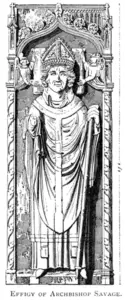 On this day in Tudor history, 2nd (or 3rd) September 1507, in the reign of King Henry VII, Thomas Savage, Archbishop of York, died at Cawood Castle in Yorkshire.
He was buried at York Minster, but his heart was buried at Macclesfield, at St Michael's Church.
Savage also served as King Henry VII's Lieutenant and High Commissioner in York and as a diplomat.
Here are a few more facts about Thomas Savage:
Thomas Savage's birthdate is not known, but he was the second son of Sir John Savage of Clifton in Cheshire and his wife, Katherine Stanley, daughter of Sir Thomas Stanley.
In late 1470, Savage became rector of Davenham in Cheshire.
He studied at the University of Oxford before moving on to the Universities of Bologna and Padua. He was awarded a doctorate of canon law from Padua and was rector of the jurists there between 1481 and 1482.
By 1485, Savage was serving as a royal chaplain and in September 1485, he was appointed as chancellor of the earldom of March.
In 1489, he was made Dean of the Chapel Royal.
In 1488-9, Savage served Henry VII as a diplomat in Spain during the negotiations for the marriage between Arthur Tudor, Prince of Wales, and Catherine of Aragon.
In 1492, Savage was appointed Bishop of Rochester.
By 1495, Savage was president of the king's council.
In 1496, he became Bishop of London.
In 1501, Savage became Archbishop of York and also began serving Henry VII in the north as the king's lieutenant and high commissioner, and leading the king's council there.
In 1503, he accompanied Henry VII's eldest daughter, Margaret, to Scotland for her marriage to King James IV of Scotland.
Savage's role in the north led to rivalry with Henry Percy, 4th Earl of Northumberland, which came to a head in May 1504 when Northumberland's men encountered the archbishop's men on a road in Northumberland. A full-blown fight was narrowly avoided, but the king was angry with both sides.
Thomas Savage, Archbishop of York died at his home, Cawood Castle, on 2nd or 3rd September 1507.
Also on this day in Tudor history...
Image: Illustration of the effigy of Thomas Savage, Archbishop of York, from "The Cathedral Church of York" by A. Clutton-Brock.