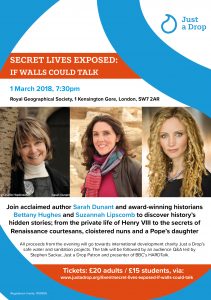 The international water charity Just a Drop emailed me about this event taking place on 1st March 2018 at the Royal Geographical Society in London. It's called "Secret Lives Exposed: If Walls Could Talk" and it sounds like a wonderful event. If you go then please do let us know what it was like.
Here are the details...
"Secret Lives Exposed: If Walls Could Talk"
with novelist Sarah Dunant and historians Bettany Hughes and Suzannah Lipscomb
The Royal Geographical Society, 1 Kensington Gore, London SW7 2AR
1 March 2018, 7:30 – 9:00pm, doors open at 7:00pm
Price: adults £20, students £15
Ticket booking: https://www.justadrop.org/Event/secret-lives-exposed-if-walls-could-talk
International water charity Just a Drop has announced that its third annual lecture at the Royal Geographical Society will feature award-winning authors and historians, and will take place on 1 March 2018. All proceeds from the evening will support Just a Drop's safe water and sanitation projects.
Acclaimed novelist Sarah Dunant and award-winning historians Bettany Hughes and Suzannah Lipscomb will join the water charity for 'Secret Lives Exposed: If Walls Could Talk'. The evening will provide a unique opportunity to discover history's hidden stories, from the powerful Byzantine Empress Theodora to the private life of Henry VIII, the secrets of Renaissance courtesans, cloistered nuns and a Pope's daughter. The talk will be followed by an audience Q&A led by Stephen Sackur, Just a Drop Patron and presenter of BBC's HARDTalk. Afterwards, Sarah, Bettany and Suzannah will sign copies of their books in the Maps Room.
This year's Just a Drop lecture follows on from the success of 2017's 'Danger, Deadlines & Frontlines: a Glimpse into the Lives of Foreign Correspondents', which featured award-winning journalists Jeremy Bowen, BBC and Christina Lamb OBE, The Sunday Times; and 2016's lecture, 'Life Behind the Lens' with wildlife producers Patrick Morris, BBC, and Huw Cordey, Silverback Films.
Sarah Dunant is an acclaimed novelist and journalist whose recent novels including In the Name of the Family and Sacred Hearts are set within the Italian Renaissance, and weave cutting edge historical scholarship into fast-moving popular fiction. They have become international bestsellers, translated into thirty languages.
Professor Bettany Hughes is an award-winning historian, author and broadcaster, who has devoted the last 25 years to the vibrant communication of the past. Her first book Helen of Troy: Goddess, Princess, Whore has been translated into ten languages. Her second, The Hemlock Cup, Socrates, Athens and the Search for the Good Life was a New York Times bestseller.
Dr Suzannah Lipscomb is Reader in Early Modern History at the University of Roehampton and has presented historical documentaries for the BBC, ITV, Channel Five, and National Geographic Channel. Her books include 1536: The Year that Changed Henry VIII and The King is Dead! The Last Will and Testament of Henry VIII.
Fiona Jeffery OBE, Chairman and Founder of Just a Drop said, "I'm delighted that Just a Drop is able to host such a prestigious event at the Royal Geographical Society for the third year running, after the success of Danger, Deadlines and Frontlines last year, and Life Behind the Lens in 2016. I'm thrilled that Sarah, Bettany and Suzannah will be joining us in March to reveal the secrets of history's hidden lives – I'm sure we're in for an exciting and illuminating evening! Funds raised from the lecture will support Just a Drop to continue to transform lives through the provision of safe water and sanitation."
Just a Drop has reached over 1.3 million people since its beginnings in 1998, and has worked in over 30 countries worldwide. The charity aims to address the shocking statistics that 884 million people globally do not have access to clean water; and that a child dies every 2 minutes from a water-related disease – which means more children under the age of five years old die from this than from malaria, measles and HIV/AIDS combined.
To find out more about Just a Drop, please visit www.justadrop.org