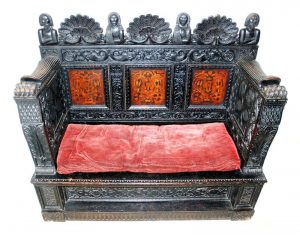 Discovering new artefacts from Henry VIII's era, and so far away from England, sounds highly unlikely, but I am an ex-Brit living on the west coast of Canada, and I think I may have found the 'holy grail' of pre-Elizabethan furniture.
I am a retiree, and in December 2016 I was looking for historical items for my daughter, Melanie, who had recently purchased a two-piece upright cupboard with 1703 among the carvings.
My latest find, a highly ornate wood-panelled bench, or settle (we'll settle on the bench word from now on!), was at a weekly auction in Victoria, British Columbia, on Vancouver Island. It was described as 19th century, and I was the winning bidder at a hammer price of $725 Canadian (415 GBP).
It turns out that the auction house were correct in their 19th-century findings, an alteration to the seating boards was made in the late 1800s converting the boards into a hinged trapdoor to allow for storage underneath. I discovered that the two steel hinges were made in a foundry in Stourbridge, England in the 1870s. The rest of the bench remained original, and there began a search through 2017 to identify many features and to identify the initials 'H' and 'C'. Those two wooden initials were surmounted with two wooden heads, male and female. Under the initials were symbols of fertility. There were two outer wooden heads that appeared to be the same person.
The penny dropped one frosty January morning when the History Channel featured Henry VIII and Catherine of Aragon.
Many references to Catherine, or Catalina as she was known in Spain, surfaced as Googled inquiries in the dozens were made by Melanie and myself.
Many of the carvings relate to pomegranates (a symbol for fertility and also a symbol that Catherine of Aragon used), lion paws, armour, and especially the four wooden heads. Both arms of the lion paws are secured into the background panel which contours around them.
The two outer heads are believed to be the same person, Sir Richard Guildford, KG, (1455-1506). He was courtier and bodyguard to Henry VII, extending his services to Prince Henry, and Catherine of Aragon.
The two central characters are wearing jewelled ornate cloaks with decorative headpieces.
Indeed, Catherine's mother, Isabella of Castile (1451 - Nov. 1504), was described as wearing similarly styled cloaks on special occasions.
Ferdinand of Aragon had pretty well evaporated the long occupation of Spain by the Moors. Left behind were a selected talent field of skilled tradesmen, and among them could have been the woodcarver.
There are side panels that feature the distinct Mudejar designs by the carver. His Islamic heritage is still discreetly immortalised in the carving of a five vertical striped flag before it was changed to four stripes in 1492.
Isabella was recorded as carrying the Balas Ruby in a pouch tucked under her forearm when attending ceremonies. That famous spinal royal ruby is the centrepiece of the Imperial Crown to this day.
The portrayal of Catherine on the bench appears to include the famous ruby tucked under her left forearm.
Also, Catherine's body armour on the bench depicts what appears to be a mysterious downward stab indentation to the chest area. including slashing to her left arm, perhaps signs of traumatic times to her young life in England.
The three wood marquetry panels, at centre, are noteworthy. That type of decor was developed in Antwerp and other Flemish centres of luxury cabinet making in the early 16th century. These three examples depict underwater scenes with reversing shades.
The red velvet cushion could well be early 16th century. Four outer fabrics were removed. The outer fabric was late 19th century and depicted scenes of deer and woodland. The fabric next to the red velvet was a royal blue satin material, possibly Elizabethan era. The cushion is filled with horse hair.
Another prominent feature with Spanish significance are the three scallop shells. Displaying the inside of the shells can indicate a determined effort to reflect upon Catherine's future fertility. The scallop shell is the emblem of St. James, and is worn by pilgrims to Santiago de Compostela in northern Spain. In fact, Isabella and Ferdinand founded a hospice there in 1492 for pilgrims.
I suggest that the bench was included in a shipment of personal treasures and horses as a dowry sent by Catherine's parents in 1504, for one thing, Isabella died in November of that year, and Sir Richard Guildford died on a pilgrimage in 1506.
But the 1504 theory has been dispelled by historian Jonathan Foyle to a time frame at least 50 years later. Jonathan replied to my inquiry one year ago, and after viewing an emailed picture said "There's lots going on there, essentially what you have is a detached C17 chest front - or less likely - settle back with added arms (which is clear as they obscure the carvings of the chest front at both ends) made into a very chunky box - settle in the C19." Jonathan confirmed that the fertility symbols were meaningful and that acorns and pomegranates indicated it was a marriage chest. The 'H' and 'C' initials are coincidental, he said. 'There are no royal arms. The marquetry is typical of nonsuch chests made after 1550, often in Southwark where foreigners set up shop outside of the City of London's guild district." Jonathan concluded.
It is my hope that this bench is eventually returned to Spain. and the Spanish monarchy. Further research has to be done to verify our findings.
I recently joined the Tudor Society, and I welcome comments and opinions.
Please contact me at [email protected]