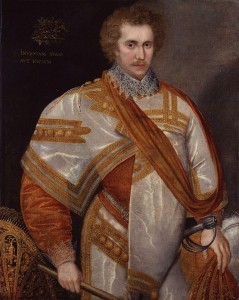 Today marks the anniversary of the death of Robert Sidney, 1st Earl of Leicester, poet and courtier, in 1626.
His notebook, which holds a collection of poems and sonnets, and shows the revisions he made to them, was discovered in Warwick Castle's library in the 1960s. It had a 19th century leather binding and researchers found that it had been acquired in 1848 after the library at Penshurst Place, Sidney's home, had been broken up and sold. Although the poetry collection had been misattributed, scholar Peter Croft was able to identify Sidney's handwriting and he went on to edit and publish Sidney's poems with Oxford University Press. The British Library purchased the notebook at Sotheby's in 1975 and it is now part of their collection, with reference Add. (Additional) MS 58435.
Here is the British Library's description of the book:
"Autograph volume of poems by Robert Sidney, with his revisions, 46 quarto leaves, in 19th-century black morocco gilt. Written for Sidney's wife, Barbara (née Gamage), but inscribed by him (f. 1r) 'For the Countess of Pembroke' (his sister).
Bookplate of Warwick Castle. Tipped-in letter about the MS by W. Blott to H.J. Cooke, 24 January 1848. Item 794 in an unidentified sale catalogue."
You can read the rest of the description, which gives detail on each page/folio at http://www.celm-ms.org.uk/repositories/british-library-additional-55000.html.
The British Library also has an article on their website - A Manuscript of Poems by Robert Sidney: Some Early Impression - which gives details about Sidney, the manuscript, its provenance and the poetry, along with a selection of poems from the manuscript.
If you want to read all of Sidney's poems then get hold of a copy of The Poems of Robert Sidney, ed. P. J. Croft (Oxford, Clarendon Press, 1984).