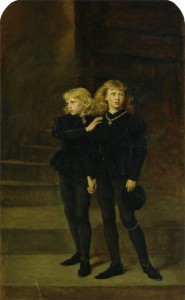 As today is the anniversary of the birth of Edward V, son of Edward IV and one of the Princes in the Tower, it seems fitting to announce that we're holding one of our informal live chats on the Tudor Society chatroom on 11th November 2016 and it will be on the Princes in the Tower. It will be open to all full-access Tudor Society members.
Olga Hughes, Tudor Life magazine regular contributor, and I will be moderating the chat and it will be 60 minutes of chatting about these boys and the theories regarding their fates. It's your chance to have your say, pose questions or just lurk and 'listen' to others if you'd prefer. It will be fun and enlightening, I promise!
Here are the times for the different time zones:
11pm on 11 November in the UK
12 midnight on 11 November in Madrid, Spain
6pm on 11 November in New York, USA
3pm on 11 November in Los Angeles, USA
10am on 12 November in Sydney, Australia
I hope you can join us! The link for the chatroom is https://www.tudorsociety.com/chatroom/. If you're not a Tudor Society member, you can find out more about joining at www.tudorsociety.com/pricing/.
We also have a date set for our expert live chat. Author Janet Wertman will be joining us on the chatroom on 18th November to answer your questions about Jane Seymour and/or writing historical fiction. Click here to listen to her expert talk on Jane.