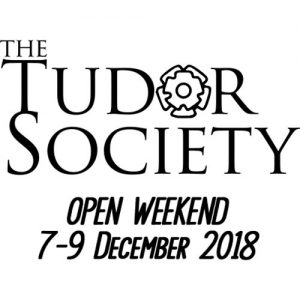 This coming weekend is our Tudor Society open weekend!
From 7th to 9th December, those who register - register at www.tudorsociety.com/open-weekend-2018/ will be able to use the site just as they are full-access members of the Tudor Society. It's a wonderful opportunity for Tudor history lovers to see what we're all about.
Simply use the categories on the top menu bar or in the side menu to explore. There will also be new Tudor treats going live on the website that weekend too and I just wanted to give members and registrants a heads-up so you know what's coming. Don't worry, if you're an open weekend registrant you will be sent details of how to log-in beforehand so that you can access the following treats and links to them.
Note: You will be able to access the links and treats between 7th and 9th after you have logged in.
7 December
Philippa's Roving Report goes live – Every Friday, we have a video talk go live on the Tudor Society website, usually a Claire Chats video on a Tudor topic, but this week it's a virtual tour of an historic property from our roving reporter, Philippa Lacey Brewell.
Bonus Expert Talk – To celebrate our open weekend, we have a special bonus talk from historian Gareth Russell, author of Young and Damned and Fair: The Life and Tragedy of Catherine Howard, Fifth Wife of King Henry VIII. Gareth's talk is on Catherine and I just know you'll enjoy it. This talk goes live on the site on 7 December.
8 December
Live chat – Gareth Russell will be joining us in the Tudor Society chatroom on Saturday 8th December to answer your questions on Catherine Howard, his book and his research. Feel free to grill him. The chatroom can be found at https://www.tudorsociety.com/chatroom/
Here are the times of the chat in different time zones:
London, UK - Saturday 8th December at 11pm
Madrid, Spain - Sunday 9th December at 12am
New York, USA - Saturday 8th December at 6pm
Los Angeles, USA - Saturday 8th December at 3pm
Sydney, Australia - Sunday 9th December at 10am
Adelaide, Australia - Sunday 9th December at 9.30am
All you have to do is log-in, enter the chatroom and then you can participate as much as you like, whether you feel happier lurking and reading other people's questions and Gareth's answers, or whether you want to dive in and ask questions or comment on people's views. You simply enter your question in the text box and hit "send" or Return. These chats are always fun and interesting.
If you are unable to come to the chat, you can always log-in later and have a read through the chat to see the questions and Gareth's answers. We also publish transcripts of each expert live chat for our members.
Expert Answers – Tudor Society members are able to put questions forward to be answered by Tudor history experts. We've had some very interesting questions and we'll be highlighting three of these today.
9 December
Sunday is quiz time. Each Sunday we publish a Tudor history themed quiz, crossword puzzle or wordsearch for members to enjoy. Look out for this Sunday's quiz!
More to enjoy
Each month, we invite a historian or author to give an expert talk to our members. These talks are recorded on video and published on the site on the first of the month. We then invite the speaker into the Tudor Society chatroom later on in the month to answer members' questions. Our expert speaker for December is historian Kate Cole who is speaking to us about Witchcraft in Tudor and Stuart Essex, a fascinating subject. You can view her video talk at https://www.tudorsociety.com/expert-talk-the-witches-of-elizabethan-and-stuart-essex-kate-cole/
We also have an informal chat each month in the chatroom. We discuss a different topic each month. It's lovely to talk Tudor!
The Tudor Society produces a Tudor history focused magazine each month, Tudor Life Magazine. You can read the December edition, which has the Cecil family as its theme, but also has a special Christmas section, at https://www.tudorsociety.com/december-2018-tudor-life-the-cecils/
The open weekend is your chance to explore the Tudor Society. There is so much on the site, from our regular Claire Chats video talks to our Tudor Society E-book series, from primary sources to bios of Tudor people... Enjoy over 4 years of archives! Browse by using the top menu bar.
I do hope you enjoy using the Tudor Society this weekend!