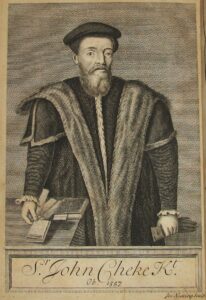 On this day in Tudor history, 4th October 1556, following five months of imprisonment, humanist, former royal tutor and former secretary of state Sir John Cheke made a public recantation of his Protestant faith in front of Queen Mary I and the royal court.
Cheke, who had tutored King Edward VI and served Queen Jane (Lady Jane Grey) as secretary of state, had been imprisoned in late July 1553 following Mary I's accession for his part in putting Lady Jane Grey on the throne, but released in spring 1554. Mary I granted him a licence to go into exile abroad, which he did, travelling to Strasbourg, Basel, Padua and then back to Strasbourg.
While Cheke was in exile, as his biographer Alan Bryson points out, he helped "organize the protestant propaganda campaign against Marian religious reform" and used "his contacts to circulate its tracts in England". He was also friends with Sir Peter Carew, who'd been involved in Wyatt's Rebellion against the queen in 1554 but who had managed to escape arrest and flee abroad. All this made him a wanted man by Mary I and her council, and on 15th May 1556, Cheke and Carew were arrested as they travelled from Mechelen to Antwerp. They were conveyed to England, where they were imprisoned in the Tower of London.
Terrified of being burnt as a heretic like Thomas Cranmer, Archbishop of Canterbury, and other Protestants he'd known, on 15th July 1556, Cheke wrote to the queen promising to obey her laws and embrace Catholicism. However, that wasn't enough for Mary, and Cheke was forced to make a public recantation on 4th October 1556. He was then released from the Tower. Cheke later regretted what he saw as his cowardice, and died a broken man on 13th September 1557.
Also on this day in Tudor history...
Image: Engraving of Sir John Cheke by Joseph Nutting from the Life of Sir John Cheke by John Strype.
Notes and Sources