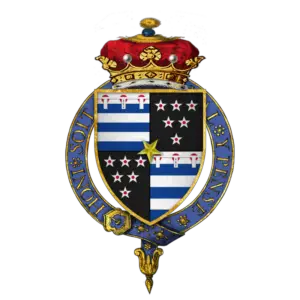 On this day in Tudor history, 10th October 1530, Thomas Grey, 2nd Marquess of Dorset, magnate, soldier and courtier, died. He was buried at Astley Collegiate Church in Warwickshire.
Grey's offices included Constable of Warwick Castle and of Kenilworth Castle, and, as a skilled jouster, he also acted as Chief Answerer at the marriage of Prince Arthur and Catherine of Aragon. Grey was also the grandfather of Lady Jane Grey and the grandson of Elizabeth Woodville.
Here are some more facts about Thomas Grey:
Thomas Grey, 2nd Marquess of Dorset, was the third son and heir of Thomas Grey, 1st Marquess of Dorset, and his wife, Cicely (Cecily) Bonville.
His paternal grandparents were Sir John Grey of Groby, Leicestershire, and Elizabeth Woodville, who went on to marry Edward IV after Sir John Grey's death. His maternal grandparents were William Bonville, 6th Baron Harington, and Lady Katherine Neville, who was the sister of Richard Neville, 16th Earl of Warwick, a man known as The Kingmaker.
Dorset was born on 22nd June 1477.
His father fled into exile in Brittany in 1483, taking his young son with him. This was after the Duke of Buckingham's rebellion against Richard III failed. And although Henry VII was married to Elizabeth of York, the 1st Marquess of Dorset's half-sister, he imprisoned the marquess during the pretender Lambert Simnel's rebellion in 1487.
Dorset was educated at Magdalen College School, Oxford, where, according to Cardinal Thomas Wolsey's servant and biographer, George Cavendish, he was taught by Wolsey.
In 1494, he was made a Knight of the Bath.
In 1501, he was elected to the Order of the Garter.
His father died in 1501 and he succeeded him as Marquess of Dorset, his two older brothers having died.
Dorset was a skilled jouster and acted as Chief Answerer at the tournament celebrating the marriage of Henry VII's eldest son, Arthur, Prince of Wales, and Catherine of Aragon.
In 1508, Henry VII imprisoned Dorset in the Tower of London and then a gaol in Calais after suspecting him of involvement in a Yorkist conspiracy against the king. Fortunately, Henry VII died in April 1509 and Dorset was released by King Henry VIII. However, he was deprived for a time of his title.
In 1511, Dorset jousted in the tournament organised to celebrate the birth of Henry VIII's son, Henry, Duke of Cornwall, and was a mourner at the infant's funeral.
In 1512, Dorset commanded a failed expedition to reconquer Guyenne. Unfortunately, he and his men became ill after switching from beer to wine and then being affected by the heat.
He fought at the Siege of Tournai and Battle of the Spurs in 1513.
In 1514, he was chosen with Charles Brandon, Duke of Suffolk, to escort Henry VIII's sister, Mary, to France for her marriage to Louis XII. He and Suffolk jousted successfully at the celebratory jousts in France.
In 1516, Dorset and George, Baron Hastings, were brought before Wolsey in the Star Chamber after their feud had caused them to turn up at court with large retinues of men. In 1524, a brawl involving hundred of men broke out in Leicester. It was started by a fight between Dorset's cook and a man connected to Hastings. Again, Wolsey had to intervene, with Hastings and Dorset having to post bond of £1000. Dorset was then moved out of the way, being sent to the Welsh Marches as Princess Mary's lord master of her council.
In 1520, Dorset bore the sword of state at the Field of Cloth of Gold and in 1521 he escorted Charles V, Holy Roman Emperor, from Gravelines to England.
In 1522, he was granted three manors that had belonged to the late Duke of Buckingham. He had sat in judgement on the duke at his fall in 1521.
In 1523, Dorset fought during the Scottish campaign.
In March 1524, when Henry VIII suffered a jousting accident, it was Dorset who handed the king his lance before the king lowered his visor.
In 1528, Dorset was made constable of Warwick Castle and then in 1529, Kenilworth Castle.
He supported Henry VIII's wish for an annulment, being one of the principal witnesses at the legal proceedings in 1529.
Dorset was also involved in the fall of Cardinal Wolsey, signing articles against him.
Dorset was married twice. His first wife was Eleanor St John, daughter of Oliver St John of Lydeard Tregoze, Wiltshire, and the marriage was childless. Dorset's second wife, Margaret, daughter of Sir Robert Wotton of Boughton Malherbe, Kent, and widow of William Medley, gave him four sons and four daughters, including Henry Grey, Duke of Suffolk, who became the father of Lady Jane Grey.
Dorset was a magnate, owning land in sixteen counties.
Dorset's mother died in April 1530, but he only had a few months to enjoy that inheritance as he died on 10th October 1530, owning over a hundred manors. At his death he was one of the richest men in England.
Also on this day in Tudor history...
Image: Coat of arms of Thomas Grey, 2nd Marquess of Dorset, by Rs-nourse, Wikimedia Commons.
Notes and Sources
Braddock, R. (2008, January 03). Grey, Thomas, second marquess of Dorset (1477–1530), magnate and courtier. Oxford Dictionary of National Biography, https://www.oxforddnb.com/view/10.1093/ref:odnb/9780198614128.001.0001/odnb-9780198614128-e-11561.
Pugh, T. (2004, September 23). Grey, Thomas, first marquess of Dorset (c. 1455–1501), courtier. Oxford Dictionary of National Biography, https://www.oxforddnb.com/view/10.1093/ref:odnb/9780198614128.001.0001/odnb-9780198614128-e-11560.