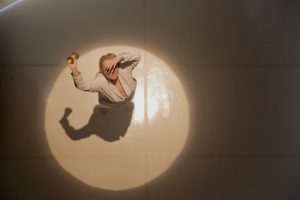 We've just had an email from Tête à Tête: The Opera Festival regarding one of their productions which they thought would be of interest to our members, "The Moot Virginity of Catherine of Aragon". Here are the details:
The Moot Virginity of Catherine of Aragon
Produced by The Belfast Ensemble
9:15pm – 10:05pm | Thursday 27 July 2017
Robin Howard Dance Theatre, The Place, 17 Duke's Rd, London, WC1H 9PY
Early Bird Tickets (Until 19th June): £5
Advance Online: £7.50 | Door/Phone: £9.50
'All this? All Europe, all undone?… and for what? A son?'
As Europe prepares to split, this edgy new Northern Irish company looks back to another event that tore the country in two – the divorce of England's Spanish queen. Part recitation, part song-cycle, this music-theatre first charts the memories of a mis-remembered woman.
Find out more at www.tete-a-tete.org.uk/event/the-moot-virginity-of-catherine-of-aragon/
Tudor Society members Ceri Creffield reviewed the production when she went to see it in Cardiff and you can click here to read her review.