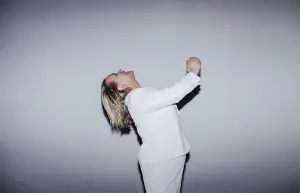 Tudor Society member Ceri Creffield has kindly agreed to share with us her experience of seeing "The Moot Virginity of Catherine of Aragon" production which was performed by the Belfast Ensemble at the Sherman Theatre in Cardiff, South Wales.
Here is a description of the production from the theatre website:
"'ALL THIS, ALL EUROPE, ALL UNDONE? …AND FOR WHAT? A SON?'
Europe divides in two. An act of teenage love could be the cause. Catherine of Aragon's first wedding night with Henry VIII's brother, Arthur comes into question in this no-nonsense music-theatre first. Did they? Didn't they?
With live on-stage musicians and an award-winning team, this immersive show is a must as we reconsider one of history's misremembered women.
Performed by Abigail McGibbon (winner Best Supporting Actress, Irish Times Theatre Awards, 2016)
Directed by Conor Mitchell."
And here are Ceri's thoughts:
"The first thing to say about it is that it is definitely not a play but "a verse cycle for actor and instruments", as it describes itself.
The performance took place in the studio space at the Sherman Theatre. As we entered the dim auditorium, the fragrance on incense floated out to greet us. The seating consisted of mats, throws and cushions on the floor and a few seats behind these. I managed to secure the head of a chaise longue covered with a bolt of red velvet. Before us, the stage was a low white square spotlit at the corners. The air was hazy with dry-ice mist. The actress (Abigail McGibbon) playing Katherine of Aragon sat there in a modern chair, clad in a white trouser suit. Behind her in semi-darkness were the musicians.
For the next 50 minutes or so, Katherine took us through a series of spoken "songs", as the composer, writer and director Conor Mitchell calls them. The music was largely incidental, underlining or enhancing what Katherine had to say - "the accompaniment, light and dancing in the background". The order was loosely chronological, although the mature Katherine often intervenes, increasingly as the cycle continues. She speaks of her childhood in Spain in a series of vignettes at different ages, moving on to her journey to England and her meeting with the child-like Arthur. My favourite song was "We Swap", dealing with the intimacy of a shared meal at Ludlow with her young husband, over which, each trying out the other's language, they swap cups of ale. In a rare touch of humour, considering the location of this production in Cardiff, Katherine leaves us in no doubt what she thinks of the Welsh and the barbaric Welsh language. Another I liked was "The Sweating Sickness" which deals with Katherine's experience of the illness, hearing snatches from the next room where Arthur lies sick.
I was not entirely convinced by the modern costume and props. In the song "Rubies for m'lady Anne", Wolsey's order to return her jewels to Henry arrives by telephone, which I found distracting. However, the starkness of the white stage, white clothes and white props does concentrate the focus entirely on Katherine and her words. (An Irish-accented Katherine also took a little getting used to!) Images of blood and light run through the verse. "Unfit" deals with the way in which Mary's gender and in particular, menstruation, renders her unfit for the crown and her father's approval. I would have liked to see the text of the songs; I'm sure that there were things I missed as Katherine's speech grew more impassioned and loud and I would like to read and reflect on it. I did wonder how anyone unfamiliar with the details of Katherine's story would have perceived the performance. A lot of research has obviously gone into the piece. Yet I could not quite reconcile it with my image of Katherine. I think of her as a woman of immense dignity and the extreme emotion, almost a breakdown, towards the end of the piece, as she lay hammering on the coffin she had drawn on the stage, did not tally with this mental image. Nor did I see much evidence of her famous love for Henry VIII. I suppose we all have our own idea of Katherine and this was Conor Mitchell's.
One thing worth mentioning is that his Katherine does not blame Anne Boleyn for her divorce:
'ALL THIS, ALL EUROPE, ALL UNDONE? …AND FOR WHAT? A SON?'
It was certainly a powerful piece and a tour de force for Abigail McGibbon who performed it in its entirety without a moment's break."
Thank you so much to Ceri for sharing her thoughts on this piece.
Unfortunately, I haven't found details of any further performances of this production, which is a shame.
Would you like to review a play, book, TV series, movie etc. for the Tudor Society? You can reach me at [email protected] if you'd like to share a review with other members.