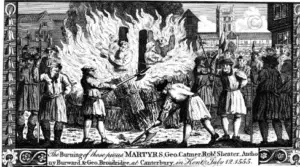 This week's #MondayMartyrs are Protestants George Catmer and Robert Streater of Hythe, in Kent; Anthony Burward of "Calete" (Calais?); George Brodbridge (Broadbridge, Bradbridge) of Bromfield, in Kent, and James Tutty of Brenchley, in Kent.
All five men were burnt at the stake as heretics in Canterbury in September 1555, in the reign of Queen Mary I.
Martyrologist John Foxe explains that Catmer, Streater, Burward, Brodbridge and Tutty were taken before Richard Thornden, Bishop of Dover, and "examined upon certain articles, touching the sacrament of their altar, auricular confession, and other such like". Regarding the sacrament of the altar, George Catmer said, "Christ sitteth in heaven, on the right hand of God the Father; and therefore I do not believe him to be in the sacrament of the altar. But he is in the worthy receiver spiritually; and the sacrament, as you use it, is an abominable idol." Streater also denied the real presence of Christ in the sacrament, accusing the bishop and others of maintaining "heresy and idolatry". Anthony Burward agreed with the others that the sacrament was an "idol".
George Brodbridge stated that the sacrament was in remembrance of Christ, commenting, "Moreover, as for your holy bread, your holy water, and your mass, I do utterly defy them." He also stated that "would not be confessed of a priest, because he could not forgive his own sins".
James Tutty agree with the other four men's views.
All five men were condemned as heretics and burnt on one fire around 6th September 1555.
These men, along with others martyred at Canterbury between 1555 and 1558, are remembered in Canterbury by The Martyrs' Memorial, which was erected in 1899.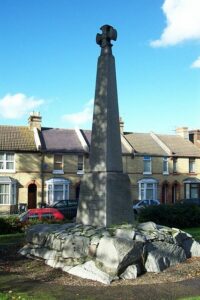 Images: The burning of George Catmer, Robert Streater, Anthony Burward and George Broadbridge at Canterbury, John Foxe's "The Book of Martyrs"; A photo of Martyrs Monument, Martyrs Field Road, Canterbury, by Elliott Simpson, https://www.geograph.org.uk/photo/367359.
Notes and Sources