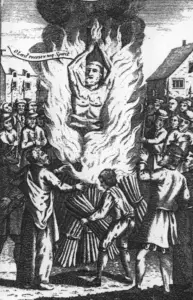 This week's Monday Martyr is Thomas Hawkes who was burnt at the stake on 10th June 1555, in the reign of Queen Mary I, at Coggeshall in Essex.
Hawkes ended up being brought before the Earl of Oxford because he hadn't had his son baptised, because, as martyrologist John Foxe records, "he would not suffer him to be baptised after the popish manner". The earl referred Hawkes on to Edmund Bonner, Bishop of London, who, with others also questioned Hawkes on his beliefs regarding the mass, the sacrament, the holy creed, holy water and other Catholic practices. These he also rejected, stating that they were contrary to the word of God.
Hawkes was imprisoned in the Gate-House while they tried to persuade him to recant. He wouldn't, saying "I am no changling". He was summoned to appear at the consistory court at St Paul's and there he was urged to recant, Hawkes, however, stated that "if he had a hundred bodies, he would suffer them all to be torn to pieces, rather than abjure the faith of Christ's gospel". He was condemned to death with five others and taken into the custody of Lord Rich.
At his burning on 10th June 1555, after being fastened to the stake, he addressed the crowd of spectators and, as John Foxe records, "especially Lord Rich, reasoning with him on the iniquity and dreadful consequences of shedding the innocent blood of the saints." He then prayed until the "violence" of the flames made it impossible for him to speak.
During his final days, Hawkes had told friends that at his burning, he would show them that with Gold's help "the most exquisite torments were to be endured in the glorious cause of Christ", by lifting his hands towards heaven before he died, and this he did. Foxe records that Hawkes "held his hands flaming over his head, and, as if in an ecstasy of joy, clapped them thrice together".
Image: Thomas Hawkes clapping his hands above his head in an illustration from John Foxe's Book of Martyrs
Source
John Foxe, An Abridgement of The Book of Martyrs..., pp. 284-287, available at Google Books.