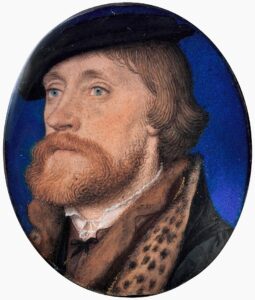 On this day in Tudor history, 6th March 1547, in the reign of King Edward VI, former Lord Chancellor to Henry VIII, Thomas Wriothesley, 1st Earl of Southampton, lost the Great Seal of his Lord Chancellorship and was confined to his home at Ely Place for abusing his authority.
Wriothesley was found guilty of issuing a commission without the knowledge or permission of the other executors of Henry VIII's will, but it was probably more to do with his opposition to Edward Seymour, Duke of Somerset, becoming Lord Protector.
Wriothesley had been appointed as an executor of Henry VIII's will and chosen by the king to serve on a regency council for the new nine-year-old king until he reached his majority. However, Henry VIII's wishes for a regency council of equals were ignored as Edward Seymour took control of Edward's council as Lord Protector. He was later re-admitted to the Privy Council, a position he'd also lost at his fall.
Let me give you a few facts about Wriothesley…
Thomas Wriothesley was born on 21st December 1505 and was eldest son of William Wriothesley, York Herald, and his wife Agnes Drayton. He was the cousin of Windsor Herald and chronicler Charles Wriothesley.
He was educated at St Paul's School in London and Trinity Hall, Cambridge.
He was known for his good looks, which were praised by his friend, antiquary John Leland.
Wriothesley began his career at the royal court when he was 19, in 1524, when he began working for Thomas Cromwell. He went on to serve as clerk to Edmund Peckham, cofferer of the household, and then in 1530 he served as a messenger to Henry VIII and then joint clerk of the signet, working for Stephen Gardiner, administrator and Bishop of Winchester.
In 1532, he was sent on missions to Brussels and Marseilles.
In the 1530s, he rose to chief clerk of the signet and worked as private secretary to Cromwell.
In the early 1530s, he married Jane Cheney, daughter of William Cheney, whose half-brother was Germayne Gardiner, nephew and private secretary of Stephen Gardiner. They had five daughters and three sons together. Out of their sons, only one, Henry, survived childhood.
In 1534, Wriothesley was admitted to Gray's Inn, one of London's inns of the court.
In 1536, he was made engraver of the Tower Mint, and joint constable of Donnington Castle, and he attended on Henry VIII while the king was dealing with the Pilgrimage of Grace rebellion.
Wriothesley was rewarded for his service during the dissolution of the monasteries with former religious houses, properties and lands that spanned eight counties, as well as grants and other properties. One of the former monastic estates was that of Titchfield Abbey, which Wriothesley made his seat.
In 1538, Wriothesley was sent to the Low Countries to negotiate a match between Henry VIII and the duchess of Milan, and the king's eldest daughter, Mary, and Don Luis of Portugal. He also served as a Justice of the Peace for Hampshire that year, and in 1539 and 1542 he was a Member of Parliament for Hampshire.
With Ralph Sadler, he became joint private secretary to the king in April 1540, and he was involved in the proceedings regarding the annulment of the king's marriage to Anne of Cleves, giving evidence of the king's distaste for his fourth wife. He was also one of those sent to Anne to obtain her agreement to the annulment. That same year, Wriothesley was also made a privy councillor and knighted.
Wriothesley was examined when Thomas Cromwell fell from power in the summer of 1540, but survived accusations of slandering the king, accusations that were eventually deemed malicious.
At the fall of Henry VIII's fifth wife, Catherine Howard, in 1541, Wriothesley was one of those sent to search the dowager duchess of Norfolk's home, as well as examining Henry Manox and Francis Dereham, and informing the queen that accusations had been made against her and that her household was being discharged.
In 1541, Wriothesley was also made Constable of Southampton Castle, Christchurch Castle and then, in 1542, of Portchester Castle. In 1542, he was also granted lands that had belonged to the fallen Margaret Pole, Countess of Salisbury.
In 1543, Wriothesley was made joint chamberlain of the exchequer and he worked with the Bishops of Westminster and Winchester to negotiate an Anglo-Hamsburg alliance with imperial ambassador Eustace Chapuys and then a further alliance with the emperor against France. The following year, he helped negotiate a treaty with the Earl of Lennox and then was a member of Queen Catherine Parr's regency council while the king was campaigning in France.
In 1544, following the death of Lord Chancellor Audley, Wriothesley was appointed in his place.
In Henry VIII's final years, Wriothesley was well trusted and high in favour, with Chapuys describing him as one of "the two people who enjoy nowadays most authority and have the most influence and credit with the king". Between 1544 and 1546, his rewards included 40 monastic manors!
On 1st January 1544, Wriothesley was made Baron Wriothesley of Titchfield and in 1545 was elevated to the Order of the Garter. In 1545, the king also stood as godfather to Wriothesley's infant son, Henry.
Wriothesley worked with Stephen Gardiner, Edmund Bonner and Richard Rich in the king's final years against religious reform and in 1546 offended the king when he arrested a member of his privy chamber, George Blagge, who was sentenced to burning for his reformed faith. The king ordered Wriothesley to draw up a pardon for the man. He was also involved in the case of famous Protestant martyr, Anne Askew, examining her and being involved with Rich in her racking. However, he was also active in working against Catholics, punishing one for allegedly faking a miracle.
In 1546, Wriothesley was involved with Bishop Gardiner in the plot against Catherine Parr and suffered the king's wrath when he was one of those who attempted to arrest her.
In the king's dying days, Wriothesley arrested Henry Howard, Earl of Surrey, and sat on the commission that tried him and sentenced him to death.
In Janaury 1547, as Lord Chancellor, he proclaimed the king's death to parliament and on 16th February 1547 he was created Earl of Southampton. He bore the sword of state at Edward VI's coronation, but then fell from power, losing the great seal on 6th. His fall allowed Edward Seymour to become leader of the king's government.
He was released from house arrest in June 1547 and was back on the council by the beginning of 1549.
Although he viewed Somerset as his enemy, he did not get involved in Thomas Seymour's scheming against his brother and was one of those who interrogated him following his arrest in 1549. After Somerset's fall , Wriothesley did rise in favour, but his Catholic conservatism prevented a good relationship with John Dudley, who succeeded Somerset. In early 1550, Wriothesley and his conservative colleague, the Earl of Arundel, were expelled from court and put under house arrest. At this time, Wriothesley began suffering with ill health and he died at Lincoln House, his London residence, on 30th July 1550. He was buried first in London but then moved to Titchfield.
Trivia: Wriothesley is known as "Call me Risley" in Hilary Mantel's Wolf Hall series.
Also on this day in Tudor history...