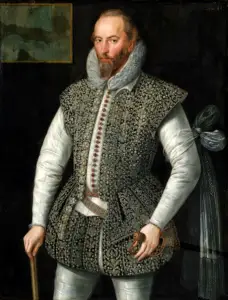 On 25th March 1584, in the reign of Queen Elizabeth I, letters patent were granted to Walter Ralegh giving him "free liberty and licence... to discover, search for, fynde out and view... landes, countries and territories", for the benefit of himself, "his heyres and assignes forever."
It went on to describe these territories: "such remote heathen and barbarous lands countries and territories not actually possessed of any Christian Prince and inhabited by Christian people", and as Nancy Bradley Warren points out in her book "Women of God and Arms", Elizabeth I and her government were not only granting Ralegh the right to colonise lands owned by the indigenous people, they were also giving him the right to take lands held by Spain, as they didn't view Catholicism as true Christianity.
Ralegh's expedition, which comprised four ships and two pinnaces under the command of his cousin, Sir Richard Grenville, set out in 1585. Grenville dropped off a party of men on the Island of Roanoke, leaving Ralph Lane in charge of the colony, before he went off privateering. Sadly, the colony failed due to lack of provisions, and Lane abandoned it in 1586 and returned to England with Francis Drake, who landed there on his way back to England from the Caribbean.
The following year, Ralegh decided to try again at establishing a colony at Roanoke, sending an expeditions, which included families, under the leadership of John White. In August 1597, just days after the arrival of these new colonists, John White's granddaughter, Virginia Dare, was born on Roanoke, becoming the first child born to English settlers in the New World.
Unfortunately, the colony failed again. Here is my video on Roanoke, which became known as the Lost Colony:
By the way, although Ralegh organised these expeditions, he never actually went to Virginia.
Here is my video on Ralegh's life, career and downfall. He ended up being executed in James I's reign:
Also on this day in Tudor history...