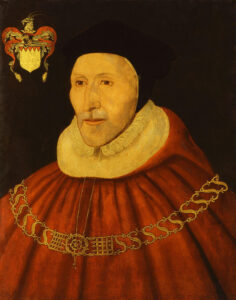 On this day in Tudor history, 24th March 1582, Sir James Dyer, judge, law reporter, Member of Parliament and Speaker of the House of Commons, died at the age of 72. His other offices included King's Sergeant-at-Law, Judge of the Common Pleas and Chief Justice of the Common Pleas. He was buried at Great Staughton Church in Huntingdonshire, next to his wife.
Dyer was Speaker of the House of Commons during the reign of King Edward VI and served as Chief Justice of the Common Pleas from January 1559 until his death. Dyer was knighted in 1552.
Dyer was the first law reporter, reporting on cases beginning in Trinity term 1532. Three volumes of his reports were published in January 1586, and these reports ran from 1513, when he was only a child, so some were retrospective.
Sir Edward Coke wrote of Dyer:
"A judge of profound knowledge and judgment in the laws of the land, and principally in the form of good pleading and true entries of judgments, and of great piety and sincerity, who in his heart abhorred all corruption and deceit; of a bountiful and generous disposition, a patron and preferrer of men learned in the law and expert clerks; of singular assiduity and observation, as appears by his book of reports, all written with his own hand, and of a fine, reverend and venerable countenance and personage."
A monument erected at his resting place in the early 17th century has an effigy of Dyer kneeling, dressed in his judicial robes and wearing his gold collar of SS, the collar of his office of Chief Justice of the Common Pleas, along with his wife and his great nephew, Richard, who was Dyer's heir at his death, Dyer leaving no children.
Also on this day in Tudor history...