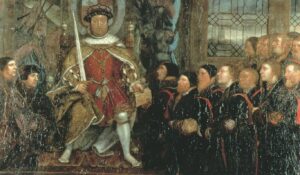 On this day in Tudor history, 19th March 1577, in the reign of Queen Elizabeth I, Edmund Harman, former barber, of Henry VIII, died at Burford in Oxfordshire. He had retired there after Henry VIII's death. Harman was buried at Taynton Church.
Harman, who was originally from Ipswich, had entered the king's service by 1533 and served him until the king's death in 1547. His main duty was the daily washing and trimming of the king's beard and hair, but he also served Henry VIII as keeper of the wardrobe.
In 1543, Harman was accused of heresy, but the king intervened and pardoned him. The following year, he accompanied the king on his expedition to Boulogne. Harman is one of those depicted in Hans Holbein the Younger's painting, Henry VIII and the Barber Surgeons, which was commissioned to commemorate the grant of a royal charter to the Company of Barbers and the Guild of Surgeons on their merger in 1540.
Harman was rewarded for his royal service with many grants of offices and land in counties such as Yorkshire, Middlesex, Gloucestershire and Oxfordshire, and the king bequeathed him 200 marks in his will.
Harman was married twice, to Agnes Silvester of Burford, with whom he had 16 children, although only two survived childhood, and then to a woman known only as Katherine, to whom he was married just four months before he died on 19th March 1577.
Also on this day in Tudor history...