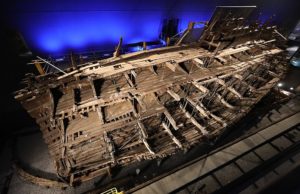 We've got some great news for one lucky person (or couple!)... read on...
It's the 475th anniversary of the sinking of the Mary Rose on July 19th 2020, and so we've been offered an exclusive entry and visit for a Tudor Society member to visit the museum for free around that date. There are a couple of requirements.
You need to be able to:
get to the Mary Rose museum with your own transport on or around July 19th 2020
take photos of reasonable quality for Tudor Life magazine
have an interest in the history of the Mary Rose
write a report about your visit for us to publish
Entry will be free for the person (or couple) chosen and you'll get great access for taking pictures and asking questions. You'll be our representative for the day. IS IT YOU? Email us on [email protected] to put your name into the hat!
Email us before Friday 13 March 2020 to be entered into the draw for this exclusive visit... good luck!