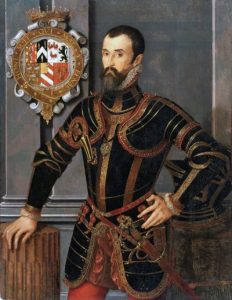 On this day in Tudor history, 17th March 1570, in the reign of Queen Elizabeth I, William Herbert, 1st Earl of Pembroke, soldier, courtier and landowner, died at Hampton Court, aged sixty-three.
Here are some facts about this Tudor earl, who was known as Black Will Herbert and had a queen as a sister-in-law...
Herbert was born in around 1506/1507 and was the second son of Sir Richard Herbert of Ewyas, and the grandson of William Herbert, Earl of Pembroke.
He was known as Black Will Herbert and fled to France to serve as a soldier there after killing a man.
Herbert was married to Anne Parr, sister of Catherine Parr, who later became Henry VIII's sixth and final wife.
Herbert served Henry VIII as an Esquire of the Body, a 'gentleman spear' and a Gentleman of the King's Privy Chamber.
When his sister-in-law became queen, he was even more favoured, and was awarded various grants and offices.
He led a troop of horsemen in the capture of Boulogne in the king's French campaign in 1544 and in 1546 was promoted to be Joint Chief Gentleman of the Privy Chamber. He was also named as an executor of the King's will.
In Edward VI's reign, Herbert was made a Knight of the Garter, and under John Dudley, Duke of Northumberland, he was awarded the offices of Master of the King's Horse and Lord President of the Council in the Welsh Marches. In 1551, Herbert was made Lord Lieutenant for all the Welsh counties, Baron Herbert of Cardiff and Earl of Pembroke. King Edward VI visited his home at Wilton in 1552.
His wife, Anne, with whom he'd had three children, Henry, Edward and Anne, died in February 1552, and he went on to marry widow Anne Talbot, daughter of George Talbot, Earl of Shrewsbury.
Although he had supported Edward VI's choice of Lady Jane Grey as his successor, Herbert changed his mind and secretly met with the Earl of Arundel. They decided to proclaim for Mary instead.
After temporary imprisonment for his part in putting Jane on the throne, he was admitted to the queen's privy council and won favour by helping to put down Wyatt's Rebellion in 1554. Mary named him as an executor of her will in 1558 and he was one of those who rode to Hatfield to tell Elizabeth of her succession.
He continued to be in favour in Elizabeth's reign, hosting the queen at Baynard's Castle in 1559 and 1562.
Herbert got into trouble with the queen in 1568 after he supported the idea that Thomas Howard, 4th Duke of Norfolk, should marry Mary, Queen of Scots. He was imprisoned temporarily and he was detained in 1569 after the rising of the Northern earls. He did, however, managed to convince the queen of his innocence and loyalty.
He died at Hampton Court on 17th March 1570 and the queen wrote a letter of condolence to his widow. He was buried at Old St Paul's on 18th April 1570 beside his first wife, Anne Parr.
Also on this day in Tudor history...
Image: William Herbert, 1st Earl of Pembroke, attributed to Steven van Herwijck.