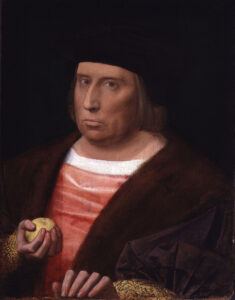 On this day in Tudor history, 16th March 1533, in the reign of King Henry VIII, soldier, translator and diplomat, John Bourchier, 2nd Baron Berners, died at Calais, while serving as Deputy of Calais.
Berners was succeeded as deputy by the king's uncle, Arthur Plantagenet, Viscount Lisle.
Here are a few facts about this Deputy of Calais:
Berners was born in around 1467 and was the only son of Sir Humphrey Bourchier, who descended from King Edward III, and Elizabeth Tilney, daughter of Frederick Tilney of Boston, Lincolnshire.
His father was killed at the Battle of Barnet, while fighting for the Yorkists, in 1471 and John became a ward of John Howard, 1st Duke of Norfolk. Berners' mother married the duke's eldest son, Thomas Howard (later 2nd Duke of Norfolk), and Berners ended up marrying the duke's daughter, Katherine.
Berners and Katherine had two children, both daughters: Mary and Jane. He also had several illegitimate children: three sons and a daughter.
In 1474, Berners became 2nd Baron Berners following the death of his grandfather, John Bourchier, 1st Baron Berners.
In 1478, at the age of around 11, Berners was knighted on the occasion of the marriage of Edward IV's younger son, Richard.
Following the accession of Henry VII, Berners fought as a soldier in 1492 and helped out down the Cornish Rebellion in 1497.
In Henry VIII's reign, Berners took part in the 1513 French campaign.
As well as serving Henry VIII as Deputy of Calais (from 1520-26, then 1531-his death), he was appointed Chancellor of the Exchequer in 1524 and also carried out diplomatic missions for the king.
Berners' translations included "Froissart's Chronicles", "Golden Book of Marcus Aurelius", "The History of Arthur of Lytell Brytaine" and "Huon of Bordeaux".
Also on this day in Tudor history...