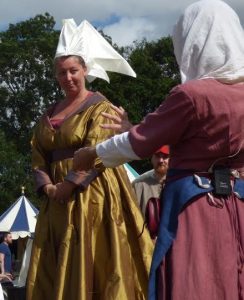 Those of you who can get to West Sussex, UK, in August may be interested to know about this event. It's the Loxwood Joust and it's taking place on two weekends in August, 5-6th and 12-13th, 10 am -6 pm on those dates.
The website says: "STEP BACK IN TIME AND EXPERIENCE THE VERVE AND VIGOUR OF A WORLD WHERE LIVES WERE HARSH AND HEARTS WERE PASSIONATE AT THIS UNIQUE, FUN AND EDUCATIONAL DAY OUT FOR ALL THE FAMILY!"
There are jousting (obviously!), interactive talks and blacksmithing workshops, and historian and Tudor Life contributor Toni Mount will be there selling her books, doing a show-and tell of medieval household artifacts and herbal remedies, and also doing two presentations each day: speaking about medieval childcare (in the morning) and doing a fashion show (in the afternoon). Do say hello to Toni if you go.
Advance tickets can be purchased now for £12 (Adult) and £6 (children aged 4-14), or on the gate for £15 and £7. See http://legendpresents.co.uk/loxwoodjoust/ for details.
The Loxwood Joust takes place at:
Loxwood Joust
The Loxwood Meadow,
Loxwood,
Billingshurst
RH14 0AL
Directions can be found at http://legendpresents.co.uk/loxwoodjoust/location/.
Thank you to Toni for these photos from last year's Loxwood Joust, they're of her fashion show.