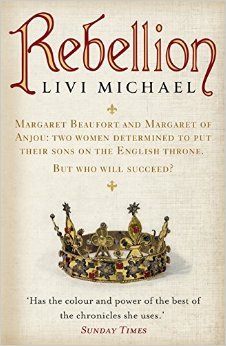 Author Livi Michael is one of our August speakers (yes, we've got 2!) and I just wanted to let you know that the second of her "Wars of the Roses" novels, Rebellion, is due out in the UK on 13th August as a paperback and kindle. It is also coming out on kindle on that date in the US.
Suffice to say that I will be grabbing a copy of Rebellion as soon as I possibly can. What I really enjoyed about Succession was the way the novel had extracts from primary source documents at the beginning and end of chapters. Not only were these extracts proof of the depth of Livi's research, they also helped the reader to understand the context of the story and to understand what really happened. I also enjoyed the way that it was told through the eyes of Margaret Beaufort and Margaret of Anjou.
Here's the blurb for Rebellion:
Margaret Beaufort and Margaret of Anjou - two women who will stop at nothing to place their sons on the English throne.
In exile in France with her young son Prince Edward, Margaret of Anjou at last gives up on promises of aid by King Louis and sets sail for England. There, she will return her husband Henry to the throne - and ensure young Edward will be its heir.
Meanwhile, Margaret Beaufort, separated from her son Henry of Richmond when he was an infant, sees the unrest surrounding the Lancastrian defeat as her chance to finally get him back. But the steps she takes to return her son imperil the kingdom and the throne's current occupant - King Edward IV.
With rebellions tearing the country apart, how far will each woman go to further the interests of their sons? And who can stand in their way?
Paperback: 368 pages
Publisher: Penguin (13 Aug. 2015)
Language: English
ISBN-10: 0241966701
ISBN-13: 978-0241966709
Available to pre-order from Amazon UK and as a kindle book from Amazon.com.
Livi's talk will be going live on The Tudor Society on 3rd August and there will be a live chat with her on the chatroom on 18th August - details to follow.