On this day in Tudor history, 17th July 1555, Protestant martyrs Christopher Wade (Waid) of Dartford, linen-weaver, and Margaret, or Margery, Polley, a widow from Pepenbury, Tunbridge, were burnt at the stake for heresy.
Let me tell you more about this man and woman, what led them to their awful fates, and what happened on that day in 1555...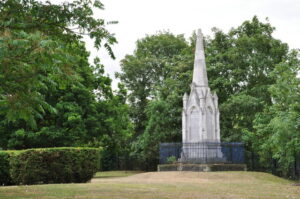 Photo of The 'Martyrs' Memorial' - Dartford, Kent
© Copyright Brian Chadwick and licensed for reuse under this Creative Commons Licence. https://www.geograph.org.uk/photo/2008536
And on this day in 1555, Richard Carew, was born at Antony House, Torpoint, in Cornwall.
As well as serving his county and country in several offices, Carew was also an antiquary, bee-keeper, translator and poet. He is known for his book a "Survey of Cornwall", which has been reprinted on several occasions over the centuries. You can read it at https://archive.org/stream/surveycornwalla00caregoog#page/n10/mode/2up
Find out all about this multi-talented Tudor man in today's talk from Claire Ridgway, author of several history books...