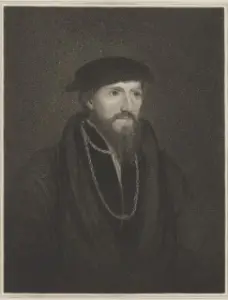 On this day in Tudor history, 16th January 1501, in the reign of King Henry VII, Sir Anthony Denny was born at Cheshunt in Hertfordshire. He was the second son of Sir Edmund Denny, Baron of the Exchequer to Henry VIII, and his wife, Mary Troutbeck.
The courtier and good friend of Henry VIII was educated at St Paul's School, London, before moving on to St John's College, Cambridge.
Following employment in the service of Sir Francis Bryan, a man known as the Vicar of Hell, Denny joined King Henry VIII's privy chamber in 1533 and was made a yeoman of the wardrobe in 1536. He rose to become keeper of the privy purse in 1542 and then in 1546, first chief gentleman of the privy chamber and groom of the stool. In 1540, following the king's doomed marriage to Anne of Cleves, Denny was one of those in whom the king confided his unhappiness in the marriage.
Denny benefitted from the dissolution of the monasteries by being granted land and properties including the abbeys of Waltham and St Albans, and the priories of Cheshunt and Hertford.
Denny was married to Joan Champernowne, sister of Katherine Ashley, Elizabeth I's governess. Both Denny and Joan were keen Protestants. Joan served as a lady to Anne of Cleves and Catherine Parr, and was one of those ladies at court the Catholic Conservatives hoped that Protestant martyr Anne Askew would implicate in 1546.
In the king's final years, he was a holder of the royal stamp, a dry stamp of the king's signature. In the king's final hours in January 1547, Denny was the one chosen to tell the king of his imminent death, telling him "to prepare himself to death... and to call upon God... for grace and mercy". Denny was an executor of Henry VIII's will and at his funeral procession, with Sir William Herbert, was "set at the head and feet of the said corpse".
In Edward VI's reign, Denny was sent with the Marquess of Northampton to put down Kett's Rebellion in the summer of 1549, but died at Cheshunt on 10th September 1549.
He was survived by five sons and four daughters, and an illegitimate son. In his will, he left instructions for his wife Joan to educate their children to that "the commonwealth may find them profitable members and not burdens as idle drones be to the hive".
His grandson, Edward Denny, 1st Earl of Norwich, son of Denny's eldest son and heir, Henry, served Elizabeth I as a groom of the privy chamber and married a granddaughter of William Cecil, Baron Burghley. He was created Earl of Norwich in 1626.
Trivia: In June 1548, after Catherine Parr had found her husband, Thomas Seymour, in an embrace with her stepdaughter, Elizabeth, the future Elizabeth I, Elizabeth was sent to live with Denny and his wife, Joan, at their home in Cheshunt to protect the princess's reputation and Catherine's marriage.
Image: Engraving of Sir Anthony Denny by Charles Picart, NPG.