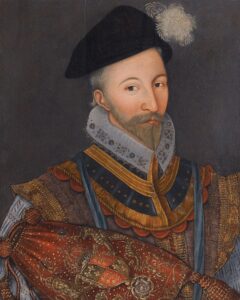 On 12th January 1573, in the reign of Queen Elizabeth I, William Howard, 1st Baron Howard of Effingham, died at Hampton Court Palace.
The diplomat, soldier and naval commander was buried at Reigate Church.
Howard had served four Tudor monarchs: Henry VIII, Edward VI, Mary I and Elizabeth I, and had been Lord Admiral and Lord Chamberlain of the Household. At one point, he was convicted of misprision of treason, but was fortunately pardoned.
Here are some facts about William Howard, 1st Baron Howard of Effingham:
William Howard was the fourth son of Thomas Howard, 2nd Duke of Norfolk, and his second wife, Agnes Tilney, and was born in around 1510.
He was educated at Trinity Hall, Cambridge, before being introduced to the royal court.
In 1531, when he was about twenty years of age, Howard was sent on an embassy to Scotland, and then, in October 1532, he accompanied Henry VIII and Anne Boleyn on their trip to Calais to meet with Francis I and to gain his support for their relationship. Anne Boleyn was the daughter of Howard's half-sister, Elizabeth Howard.
In around 1531, Howard married Katherine Broughton or Boughton, daughter of John Boughton of Tuddington in Bedfordshire. The couple had one child together, a daughter, Agnes.
In May 1533, while his half-brother, Thomas Howard, 3rd Duke of Norfolk, was away in France on diplomatic business, he filled in as Earl Marshal for the celebrations surrounding Queen Anne Boleyn's coronation.
In 1535, Howard went to Scotland to present King James V with the Order of the Garter, and, in 1536, went there again to organise a meeting between the Scottish king and his uncle, Henry VIII, and to encourage him to break with Rome. While he was there, he got on very well with Margaret Tudor, the Dowager Queen.
In 1535, following the death of his first wife, Howard married Margaret Gamage, daughter of Sir Thomas Gamage of Coity, Glamorgan. The couple went on to have several children, including two sons: Charles and William.
In June 1535, Howard went to France on an embassy with his half-brother, Norfolk, Sir William Fitzwilliam, and the Bishop of Ely, to negotiate with the Admiral of France, Philippe de Chabot.
In 1539, Howard was one of those given the job of welcoming Henry VIII's bride to be, Anne of Cleves, on her arrival in England.
In 1541, Howard was on an embassy in France when he was recalled to face a charge of misprision of treason for concealing his half-niece Catherine Howard's sexual past. He was convicted, but the king pardoned him in 1542.
In 1544, Howard served as a soldier in the king's Scottish campaign, where he suffered a facial wound at the siege of Edinburgh, and in the king's French campaign in the siege of Boulogne.
In May 1545, Howard undertook his first naval service, and, a year later, was referred to as serving as vice-admiral under John Dudley, Viscount Lisle, who was Lord Admiral.
In late 1546 and early 1547, Howard managed to avoid becoming implicated in the fall of his half-nephew, Henry Howard, Earl of Surrey, and his half-brother, Thomas Howard, 3rd Duke of Norfolk, but the family connection did prevent him succeeding Lisle as Lord Admiral and Thomas Seymour was appointed instead.
Howard was a supporter of John Dudley who took over from Edward Seymour, Duke of Somerset, as the leader of Edward VI's government after Somerset's fall, and became Duke of Northumberland. In 1552, Northumberland made Howard Lord Deputy and Governor of Calais.
In the summer of 1553, even though Howard had been an ally of Northumberland, he held Calais in the name of Mary I, rather than Queen Jane, and in January 1554 Mary chose him to welcome the Spanish ambassadors to London. She also appointed him to her privy council.
During Wyatt's Rebellion in early 1554, Howard, long with the Earl of Pembroke and Lord Clinton, were in charge of raising the militia to defend London, and Howard held Ludgate against the rebels, stopping them from entering the city.
On 11th March 1554, Howard was made Baron Howard of Effingham and on 20th March became Lord Admiral. That same year, he was also elected to the Order of the Garter.
In April 1534, Lord Admiral and his fleet patrolled the channel protecting trade and preventing any hostile French ships from intercepting Philip of Spain, who was travelling to England to marry Mary I.
In May 1555, Howard was chosen to take news of the birth of Philip and Mary's heir to Philip's father, Emperor Charles V. However, the birth didn't happen as Mary wasn't actually pregnant.
In 1557, Howard's fleet escorted the Earl of Pembroke's force to Calais, which ended up being taken by the French.
• In February 1558, due to his support for the accession of Elizabeth, his half-niece, Howard's position as Lord Admiral was given to Lord Clinton. He was, however, granted the reversion of the office of Lord Chamberlain instead.
In November 1558, when Elizabeth came to the throne, Howard was appointed Lord Chamberlain and made a privy councillor. Then, in 1559, he helped negotiate the Treaty of Cateau Cambrésis.
In 1572, due to ill health, his position of Lord Chamberlain was given to his nephew, Thomas Radcliffe, Earl of Sussex, and Howard became Lord Privy Seal instead.
Howard died on 12th January 1573 and his son, Charles, succeeded him as 2nd Baron Howard of Effingham.