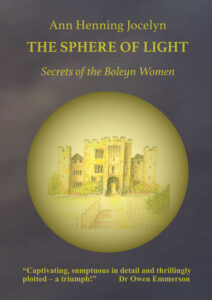 Members of the Tudor Society and Tudor fans are cordially invited to Hever Castle on 1 June 2023 at 19.30, when Ann Henning Jocelyn will be giving a talk on The Boleyns in Context, covering her research into the Boleyn family. Two early portraits of Anne and Mary Boleyn still in her family will be shown at this event.
The occasion will also see the launch of Ann's book The Sphere of Light/Secrets of the Boleyn Women by Hever curator, Dr Owen Emmerson.
Tickets @ £18.50 from www.heverfestival.co.uk will include a copy of the book.
---
In The Sphere of Light, the unknown nephew of Mary and Anne explores the well-kept secrets of the Boleyn women, including that of his own existence, historically obliterated but substantiated by a tombstone found in an old Irish castle. Unfolding like a detective story, his findings bring a brand new slant to the gruesome fate that befell his family, dispelling age-old myths of megalomania, sexual obsession, ruthless ambition and plain madness.
"Captivating, sumptuous in detail and thrillingly plotted. A triumph." Dr Owen Emmerson
"Engaging and deeply moving, bringing convincing new insights into the Boleyn story." Dr D. Duffy
The play The Sphere of Light will be shown as part of the Hever Castle Theatre Festival on August 4th and 5th this year.