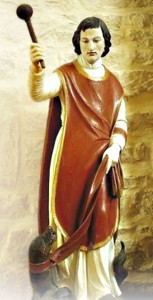 Thank you so much to Tudor Society member Ceri Creffield for telling me about an article that has been published as part of Wales Online's Welsh History Month - Welsh History Month: St Armel, the refugee saint who protected the king
I had never heard of St Armel, or his link to Henry VII, so I found this article fascinating.
Do check out Wales Online's other history articles too.
While I was on Wales Online, I just couldn't resist clicking on Whats Your Welsh Warrior Name?. Apparently mine is Ceridwen Rhygyfarch! I quite like that.