As today is the anniversary of the execution of Henry Grey, Duke of Suffolk and father of Lady Jane Grey, I thought I'd talk about his execution and a mummified head discovered in the 19th century that is said to be the duke's.
You can click here to read a bio of Henry Grey.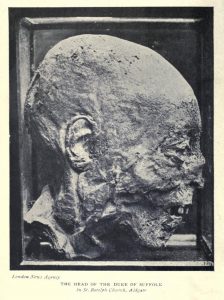 Notes, Sources and Further Reading
Picture of Henry Grey's head from Unknown London by Walter George Bell (1919).
23 February 1554 – The Execution of Henry Grey, Duke of Suffolk - For John Foxe's account of Grey's execution.
Nicolas, Nicholas Harris (1831), Memoirs and remains of Lady Jane Grey, H. Colburn & R. Bentley, p. 57-58. https://archive.org/stream/memoirsremainsof00grey#page/57/mode/2up/search/creatures - Lady jane Grey's message to her father.
Henry Grey, 1st Duke of Suffolk, Wikipedia page - https://en.wikipedia.org/wiki/Henry_Grey,_1st_Duke_of_Suffolk
Bell, Walter George (1919) Unknown London, John Lane, p. 3-18. Read online at https://archive.org/stream/unknownlondon00belluoft#page/n17/mode/2up
Bell, Doyne C. (1877) Notices of the Historic Persons Buried in the Chapel of St Peter ad Vincula in the Tower of London..., Printed by William Clowes and sons, p. 177-185.
Excavations at St Botolph, Aldgate, 1990. See "St Botolph, Aldgate T Q 3358 8120 (Julian Ayre, Sean O'Connor) SAB87." at http://www.hobleysheroes.co.uk/archives/67-london-archaeologist-1990-vol-6-10.
"The City of London and the Problem of the Liberties, c1540 - c1640", Chapter 3: The Minories, a thesis by Dr A.P. House - http://www.ptomng.com/thesis/3minories.pdf
Braddock, R. (2004-09-23). Grey, Henry, duke of Suffolk (1517–1554), magnate. Oxford Dictionary of National Biography.
Nichols, John Gough (1850) The chronicle of Queen Jane, and of two years of Queen Mary, and especially of the rebellion of Sir Thomas Wyat, J. B. Nichols, p. 127 for the description by Holinshed of Henry Grey. Read online at https://archive.org/stream/chronicleofqueen00nichuoft#page/126/mode/2up
Sir John Hayward, Bishop Burnet and Raphael Holinshed's chronicle are quoted by John Strype in Ecclesiastical Memorials, Relating Chiefly to Religion and the Emergencies of the Church of Englandunder King Henry VIII, King Edward VI and Queen Mary I, Volume III: Part I, p. 146-147. Read online at https://archive.org/stream/ecclesiasticalme0301stry#page/146/mode/2up