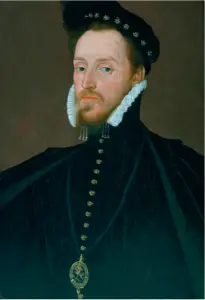 On 4th March 1526, Mary Boleyn gave birth to a son she named Henry Carey. Mary Boleyn was a member of Henry VIII's court, was married to courtier William Carey and was also the older sister of Anne Boleyn, who would become Queen of England. I believe that Mary Boleyn was also the mistress of Henry VIII from around 1522 – 1525.
Over the centuries, there has always been a great deal of debate as to who Henry Carey's father was. Henry Carey was conceived during 1525, the year, I believe, that Mary's relationship with Henry VIII was coming to an end. It may be possible that during the last few times the King slept with Mary she conceived. It has also been suggested that Henry would not have wished to share Mary with her husband, keeping her to himself during the entire period of their relationship.
During his life there were also rumours that Henry Carey looked quite a lot like Henry VIII and that Henry VIII gave Mary's husband William Carey a series of grants and appointments around the time each child was born in an attempt to keep him happy. It has also been proposed that Queen Elizabeth was close Henry Carey; this must have been because they were in fact half-brother and sister rather than just cousins. Queen Elizabeth knighted Henry Carey and made him Baron Hunsdon; she also visited him on his death-bed offering him the Earldom of Wiltshire (once owned by his grandfather Thomas Boleyn).
On the other hand, there are just as many reasons proposed as to why Henry VIII was not Henry Carey's father. It is just as plausible that during the time Mary was the King's mistress she may have also been sleeping with her husband. Henry VIII never acknowledged Henry as his son, where he had acknowledged Henry Fitzroy, a son he bore with his previous mistress Bessie Blount.
It has also been proposed that Henry VIII may have had low fertility and thus there would be a low probability that Mary could become pregnant by the King. It has also been suggested that the grants given to William Carey could have simply been to keep him silent and happy about his wife sleeping with the King, as well as for his dedicated service to the King. Also the reason that Queen Elizabeth showed great favour to Henry Carey was simply because they were cousins.
Whatever the truth regarding Henry Carey's biological father, it was William Carey, Mary's husband, that acknowledged baby Henry as his son and heir. Henry Carey would grow up to become a prominent and impressive member at court.
On the 21st May 1545 Henry obtained a licence to marry Anne Morgan daughter of Sir Thomas Morgan. The couple would go on to have twelve children together - nine sons and three daughters.
During his early years Henry Carey became a diplomat, ambassador and a member of parliament. In 1546, during the reign of Henry VIII, Carey accompanied John Dudley, Viscount Lisle on an embassy mission to France. In the first year of Edward VI's reign Carey was MP for the borough of Buckingham and during the reign of Mary I he was a carver of the privy chamber. In 1557 Carey was held in the Fleet prison for debts of £507 which had occurred in 1551 but was soon released on bond on the 19th May.
When Elizabeth I came to the throne, Henry was knighted and on 13th January 1559 he was created Baron Hunsdon and granted substantial lands in Kent, Hertfordshire and Essex which provided a yearly income of £4000, a huge sum at the time. On 31st October 1560 Henry was appointed as Master of the Queen's hawks and then on 18th Mary 1561 he was created a Knight of the Garter, the highest order of chivalry in England. In 1564 Carey was granted the distinct honour of leading a mission to France where he presented the Order of the Garter to the French King Charles IX, on behalf of Elizabeth I. He also witnessed the signing of the treaty of Troyes between England and France.
On the 25th of August 1568 Carey was appointed Governor of Berwick, a position which saw him protecting the north of England from Scottish invaders and any possible rebellions. One such rebellion took place on the 20th January 1570. Henry Carey and a group of around 1500 soldiers faced English rebel, Leonard Dacre, who was part of an uprising in the North of England. Carey and his men, although outnumbered, stood strong and managed to scatter the rebel army which quickly fled north along with Dacre. In response to his victory Elizabeth I wrote to her cousin declaring that: 'I doubt much, my Harry, whether that the victory was given me more joyed me or that you were by God appointed the instrument of my glory'. For the country's good the first suffices, but 'for my heart's contentment the second more pleased me'.
On 23 October 1571 Carey was appointed Warden of the East Marshes which afforded him even greater responsibilities in protecting the north of England. On the 16th of November 1577 Henry received the high distinction of being appointed as a member of the Privy Council. This provided him greater access not only to the Queen but to the administration of England's policies. Carey focused the remainder of his years upon his work in the Privy Council, although there were four occasions between 1578 and 1588 that he was recalled north to protect the Northern boarders and to negotiate with the Scots. In fact Henry Carey was so influential in Scottish matters that he was seen as the leading member on the Privy Council in Scottish matters and the Scottish King, James VI wrote personally to Carey on several occasions.
During 1583, Elizabeth I re-appointed Henry as captain of the Gentlemen Pensioners and in July 1585 he was appointed as Lord Chamberlain of the household as well as continuing his privy councillor duties. In 1589 Carey was appointed as Chief Justice in Eyre South of Trent and on the 2nd of March 1592 he was appointed High Steward of Oxford for the remainder of his life. This appointment added to his other stewardships of Doncaster and Ipswich which had been granted to him in 1590.
Henry was active in political life until his death on 23rd July 1596 at Somerset House. Just as his sister Catherine, Henry Carey was buried at Westminster Abbey, the expenses of this paid by his cousin Elizabeth I. It is rumoured that on his death-bed Elizabeth I offered Henry the Earldom of Wiltshire, a title held by his grandfather Thomas Boleyn. However Henry refused the title stating that if Elizabeth did not think him worthy of the title while he was alive he would not accept it now that he was dying.
Henry Carey was a hardworking, dedicated servant and courtier of his cousin and Queen, Elizabeth I. He proved himself both on the battle field and in political matters. Upon his death Carey was succeeded by his son George Carey who became 2nd Baron Hunsdon.
Sarah Bryson is the author of Mary Boleyn: In a Nutshell. She is a researcher, writer and educator who has a Bachelor of Early Childhood Education with Honours and currently works with children with disabilities. Sarah is passionate about Tudor history and has a deep interest in Mary Boleyn, Anne Boleyn, the reign of Henry VIII and the people of his court. Visiting England in 2009 furthered her passion and when she returned home she started a website, queentohistory.com, and Facebook page about Tudor history. Sarah lives in Australia, enjoys reading, writing, Tudor costume enactment and wishes to return to England one day. She is currently working on a biography of Charles Brandon, Duke of Suffolk.
Sources
Licence, Amy (2014) The Six Wives & Many Mistresses of Henry VIII, Amberley Publishing, Gloucestershire.
Wallace T. MacCaffrey, 'Carey, Henry, first Baron Hunsdon (1526–1596)', Oxford Dictionary of National Biography, Oxford University Press, 2004; online edn, Sept 2014 http://www.oxforddnb.com/view/article/4649, accessed 6 June 2015.
Weir, A (2011) Mary Boleyn: The Mistress of Kings, Ballantine Books, New York.
Wilkinson, J (2010) Mary Boleyn The True Story of Henry VIII's Favourite Mistress, Amberley Publishing, Gloucestershire.