Last week I watched a brilliant documentary entitled "A Night at Hampton Court" presented by Dr Lucy Worsley and Dr David Starkey. The documentary looked at the christening of Edward VI, son of King Henry VIII and Jane Seymour. A cast of over ninety people recreated young Edward's christening wearing traditional Tudor clothing and the documentary even had a gorgeous little baby swaddled in rich cloth representing Edward VI. The presenters spoke a little about the magnificence of Hampton Court and how Henry VIII made a great deal of improvements to Hampton Court after he acquired it from Cardinal Thomas Wolsey. This got me thinking about the history of Hampton Court and just what impact Henry VIII had on this stunning Tudor palace.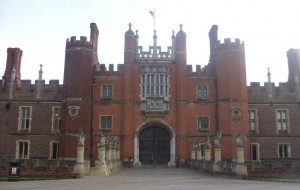 Hampton Court has origins far older than Henry VIII. Originally Hampton Court was a settlement belonging to the Saxon period; its original name was 'Hammton' meaning 'a settlement by the river'. In the early 12th century the land was owned by Reginald de St Valery, a crusader in Jerusalem. He allowed the Knights Hospitallers of St John to rent the land. The Knights built the House of Hampton and the land was primarily used to manage the Knights agricultural estates.
In 1494 a courtier of Henry VII named Giles Daubeney leased Hampton Court and began to make improvements on the original house built by the Knights Hospitallers. After this, Thomas Wolsey, who would become a Cardinal and Henry VIII's right hand man, acquired Hampton Court in 1514 as a private country house for himself. The Cardinal then began massive and lavish construction work upon the Palace. Millions upon millions of pounds were spent upon the palace, fitting it out with the finest and most exquisite architecture, furniture and tapestries. Wolsey also oversaw the building of private rooms for himself, King Henry VIII, Queen Katherine of Aragon and their daughter Princess Mary. He also ordered the construction of the huge and magnificently impressive Base Court. Truly it would become a palace fit for a King as in 1528 when Cardinal Thomas Wolsey fell from grace he gave Hampton Court to Henry VIII in an attempt to please his King.
On the 2nd January 1529 Henry VIII started his construction work at Hampton Court Palace. He ordered that the current kitchen in Hampton Court be doubled in size, now containing six fireplaces for cooking, rooms for creating sweet dishes, larders for fish, grains and other foods, cellars and an additional serving area to be added. In total the Great kitchen and adjoining rooms totalled around fifty rooms and three cellars. All of this was needed to prepare food to feed over eight hundred courtiers who would accompany the King when he stayed at Hampton Court.
Next, Henry VIII ordered the building of a three story tower to be named the Bayne Tower. Within this building would be the Council Chamber, a bedroom and bathroom, a privy closet, a library as well as a number of other rooms all for the King. In 1532 Henry VIII also oversaw the building of a massive hall known as The Great Hall. The great hall is a huge and spectacular hall in which up to six hundred people could be dinned there twice a day. The hall is by far the largest room in the palace measuring 32m long, 12m wide and over 18m high. The roof is a hammerbeam construction designed to resemble the roof of Westminster Hall and it is intricately decorated with miniatures of people which seem to look down at the diners and other beautiful emblems. Hanging on the walls of the Great Hall are massive and beautiful tapestries, woven with gold thread which in today's money are priceless.
Located next to the Great Hall is the Great Watching Chamber. This is a large room just off of the Great Hall and its name is derived from the guards who were positioned within the room to watch over Henry VIII. Adorning the roof of the Great Watching Chamber are stunning motifs and emblems representing the Tudor period. From this chamber are a series of rooms in which Henry VIII lived and conducted his day to day business.
To access the great hall a processional staircase was built from Anne Boleyn's gateway. Although not named as such during Henry VIII's time the gateway is named after Anne Boleyn today as when you stop and look up you can see a sign of Anne Boleyn which still survives today. There is a stunning motif of an entwined H and A (HA) which represent Henry and Anne Boleyn.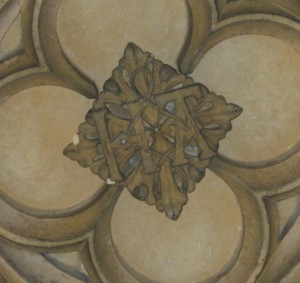 In 1533 Henry VIII ordered the building of new apartments for his second wife Anne Boleyn. However the apartments were not finished by the time Anne Boleyn fell from power and was executed in 1536. Henry VIII ordered the completion of these apartments for his third wife Jane Seymour in addition to a new set of lodgings on the north side of the palace. It was within these apartments that Jane Seymour gave birth to Henry VIII's long awaited for son and heir, Edward.
During 1535 Henry VIII ordered the rebuilding of The Chapel Royal. The Chapel, a place of worship, has a stunning vaulted ceiling painted blue and decorated with thousands of golden stars. In addition to the magnificent vaulted roof two new rooms were added to the Chapel, one for the King to sit and hear mass and another for the Queen.
In 1540 Henry VIII's impressive astronomical clock was built. The clock was designed by Nicholas Oursain and is located within Clock Court (which was named after the great clock). This magnificent clock has three separate copper dials which are operated by a series of very complex gears and dials. The clock tells the hour, month and day of the year. It also tells the position of the sun and the zodiac and the phases of the moon. It can also tell the time of high tide at Tower Bridge, which was very important for travel up and down the Thames River during Henry VIII's reign.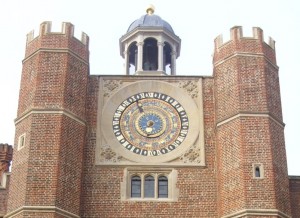 In addition to all of this Henry VIII added bowling alleys, tennis courts, a tiltyard, hot and cold running water to the King's chambers, and magnificent gardens.
After the death of Henry VIII and that of his children Edward VI, Mary and Elizabeth I, the rule of the Tudors came to an end. Hampton Court passed through the royal families and it was William III and his wife Mary II who commissioned Sir Christopher Wren to rebuild much of Hampton Court. We can see William III's beautiful apartments and the apartments of his wife, Mary II, which still stand today. These rooms are impressively furnished and decorated but reflect a much later period in English history than the time of Henry VIII.
In 1838 Queen Victoria declared that Hampton Court 'should be thrown open to all her subjects without restriction.' Walking through Hampton Court is to step back in time almost five hundred years. It is a lavish, magnificent, overwhelming Palace. Thanks to Henry VIII's grand building ideas we are able to experience what Hampton Court would have been like for the King during this lifetime.
Why not have a go at our Hampton Court Palace quiz - click here.
Sources
Dolman, B, Edwards, S, Groom, S and Meltonville, M 2009, Historic Royal Palaces Explore Hampton Court Palace, Historic Royal Palaces, Surrey.
Historic Royal Palaces 2011, 'A Building History: Hampton Court', viewed 1st February 2015, Available from Internet http://www.hrp.org.uk/HamptonCourtPalace/sightsandstories/buildinghistoryHamptonCourtPalace.
Worsley, L & Souden D 2012, The Official Illustrated History Hampton Court Palace, Merrell Publishers Limited, London.