A History of the English Monarchy: From Boadicea to Elizabeth I
, I'm delighted to welcome Gareth to the Tudor Society today, which is his home from home anyway! I hope you enjoy his article and please see the bottom of this post for details on how to enter the giveaway for a copy of his wonderful book. Over to Gareth...
Elizabeth I's decline began in her moment of apotheosis. The defeat of the Spanish Armada coincided with the death of Robert Dudley, Earl of Leicester. In the middle of the victory celebrations, the Queen received the news that her childhood friend-turned-adult-love had passed away and she was heartbroken. It has long been surmised that Elizabeth would have married Leicester had he not already been married and his first wife, Amy Dudley (née Robsart), had not then been found dead in circumstances that looked suspiciously like murder or suicide. However, during a bout of serious illness when she thought she was about to die, Elizabeth made a point of denying that she had ever taken Leicester into her bed, no matter how much she loved him. Despite mountains of speculation then and since, there is in fact no firm evidence at all to suggest that Elizabeth I was not a virgin as she claimed. The risk of pregnancy, the loss of her reputation, death in childbed or yielding her authority to a man made celibacy by far her safest choice. We will never know, of course, what happened every day and night of her life, but it is worth pointing out that it should not be taken as axiomatic, as it too often is, that Elizabeth Tudor lied about her life-long virginity.
After Dudley's death, one by one the other constants of the Queen's life fell away from her. She nursed Lord Burghley on his deathbed, her spymaster Francis Walsingham passed on, her childhood governess Blanche Perry, who had become the chief lady of Elizabeth's privy chamber, died at the age of eighty-three in 1590, and a cousin on the Boleyn side, Katherine, Countess of Nottingham, died, producing a grief so severe it hastened Elizabeth's own end in 1603.
In her last decades, the Queen's contemporaries were replaced at court by new bloods, chief of whom was Lord Burghley's son, the Machiavellian Robert Cecil, and Leicester's impulsive stepson Robert Devereux, Earl of Essex. Despite their fawning praise of her, these two rivals were privately contemptuous to varying degrees of Queen Elizabeth's settled conservatism, her aversion to war and her refusal to name an heir. Remembering how people had flocked to her while her sister Mary I lay dying in 1558, Elizabeth refused to name an heir directly, 'saying,' as her godson recalled, 'she would not have her winding sheet set up before her face'. As she declined, the Queen caked herself in white make-up and wore gowns designed to dazzle and intimidate, rather than to flatter. In a deeply misogynist world it was better for her to appear frighteningly bizarre and otherworldly than betray even the faintest sign of aging weakness.
A sense of hopeless frustration, political ennui, was nurtured by atrocious weather and correspondingly poor harvests. Corruption was endemic in the late Elizabethan state and feeling against it ran high. Rebellion, led by Hugh O'Neill, Earl of Tyrone, convulsed Ireland. Elizabeth had continued her grandfather and sister's policies of trying to stabilise and expand the monarchy's presence on the island. O'Neill's quests for political power of his own were helped by tensions between Crown loyalists, who were given areas of land to settle outside the Dublin Pale, and the Irish-speaking majority. Religion added a new spice to the animosity, with most of Ireland remaining Catholic and the majority of settlers practicing Protestantism. Violence spread. In a particularly horrific sequence of events, O'Neill's supporters attacked a Crown-sponsored settlement in Munster, Ireland's most southerly province, and murdered all the men living there, before slaughtering the children in front of their mothers, who were then gang-raped, facially mutilated and driven naked into the nearby hills to die of exposure. When pressed to offer O'Neill a pardon in the hope of buying peace, Elizabeth erupted at the thought of clemency for 'the author of so much misery to our loving subjects'.
After Lord Essex, who was sent to Ireland to crush O'Neill, ended up offering him peace terms in despair at what he felt was an unwinnable war, Elizabeth was apoplectic. She cut the proud Earl off from her largesse and he rebelled against her, possibly with the intention of speeding up the day when she was succeeded by her young Scottish kinsman, King James VI. The city of London did not heed Essex's cry, however, and the Queen ordered his execution with great reluctance. She had cared for him once as the stepson of her cherished Leicester and she admired his spirited bravado. But he was a traitor who had put himself above the national good. For Elizabeth, that was a crime that must be punished.
Two years after Essex's execution, Elizabeth passed away. She had kept going, right to the end, despite the fact that her body seemed worn out and her spirits exhausted. During the opening of Parliament, the fragile old lady had nearly lost her balance thanks to the weight of her robes. When one of her advisers told her that she must go to bed, she disdainfully told him, 'Little man, the word 'must' is not used to princes'. Which, to me, is one of the most magnificent put-downs in history. According to her godson, Sir John Harington, Elizabeth I slipped away quietly, shortly after 'hugging' the hand of the Archbishop of Canterbury as he spoke gently to her of the reality of Heaven. Harington reported that 'she took great delight in hearing prayers and would often at the name of Jesus lift up her hands and eyes to heaven.'
An era had ended and another contemporary wrote that with Elizabeth's death many of her subjects felt as if 'the most resplendent sun [had] setteth at last in a western cloud'. All the frantic behind-the-scenes intrigues paid dividend in the peaceful accession of her third cousin, King James VI of Scots, who became James I of England and Ireland. Elizabeth I's faith in monarchical primogeniture was justified and the House of Stewart, or Stuart as the English, Welsh and Irish called them, ruled until 1714.
Giveaway
To be in with a chance of winning a paperback copy of Gareth's A History of the English Monarchy: From Boadicea to Elizabeth I, simply leave a comment below saying what you admire most about Elizabeth I. The closing date for comments is midnight 4th September and the winner will be contacted via email.
You can catch up with Gareth's other stops and enter the other giveaways using the following book tour schedule: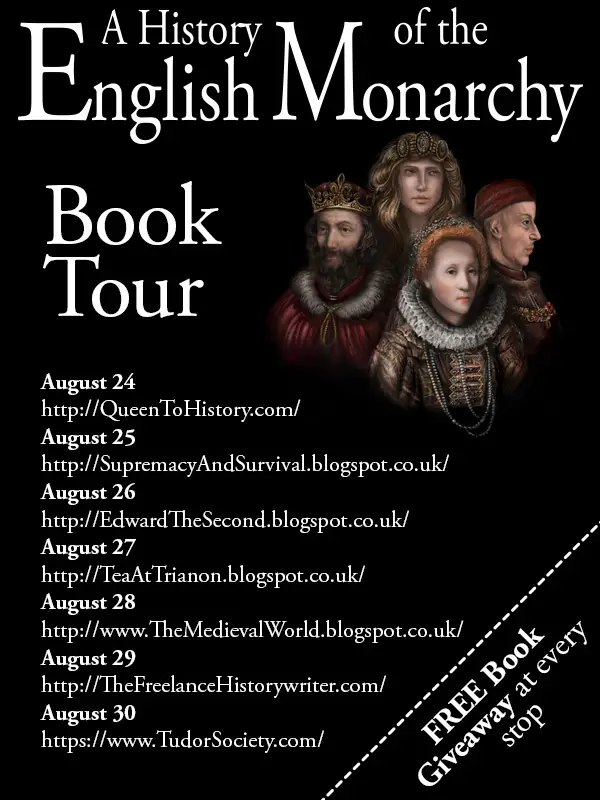 Gareth Russell is an historian and writer from Belfast, Northern Ireland. He studied Modern History at the University of Oxford and completed a postgraduate in medieval history at Queen's University, Belfast. He is the author of two novels and three non-fiction books, including his most recent book,

A History of the English Monarchy: From Boadicea to Elizabeth I

. He is currently writing a biography of Queen Catherine Howard. He is also the editor of

Tudor Life

magazine, the monthly magazine of the Tudor Society.

As part of Gareth Russell's book tour for