On this day in Tudor history, 8th February 1545, in the reign of King Henry VIII, Sir John Arundell of Lanherne, died at the home of his nephew, Richard Roscarrock of Roscarrock, in St Endellion, Cornwall.
Let me give you a few facts about this Tudor man, who was actually the third John Arundell out of 9 prominent John Arundells in the same family...
Sir John Arundell III was born in around 1474 and was the eldest son of Sir Thomas Arundell and his wife Katherine Dynham. His father Thomas, a Lancastrian supporter, had been attainted in the reign of King Richard III and his estates confiscated, but following Henry VII's accession to the throne, the attainder was reversed and his estates restored. Thomas died just a few months later, though, leaving eleven-year-old John as his heir.
John III was made a Knight of the Bath in 1494 when Henry VII's son, the future Henry VIII, was made Duke of York, and in 1497 he led troops for Henry VII against the Cornish Rebels. He served Henry VII and Henry VIII as receiver of the duchy of Cornwall from 1508 until 1533, when the office was passed to his son, Thomas. He led troops again in 1513, this time in France, where he was dubbed a knight-banneret.
In 1525, John turned down a barony, realising the financial implications of being raised to the peerage. In 1539, he was appointed to the council of the West.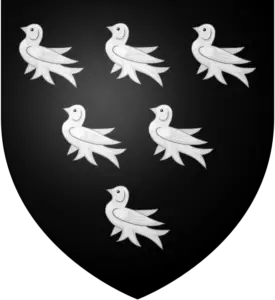 John was married twice, first to Eleanor Grey, daughter of Thomas Grey, Marquis of Dorset, with whom he had at least 4 children: Sir John Arundell IV, Sir Thomas Arundell, Elizabeth and Jane. Following Eleanor's death, he married Katherine Grenville of Stowe, with whom he had a daughter, Mary.
John was a devout Catholic and a family man. His biographer, Pamela Y Stanton, tells of how he cared for his pregnant daughter-in-law in the 1520s after his son, John, had abandoned her in London to flee abroad temporarily due to debt. He also provided for his daughter, Jane, who never married.
By the time of his death on 8th February 1545, John had substantial land and property holdings in Devon and Cornwall. There is controversy over his burial place. There is a splendid monumental brass to him and his two wives in the parish church at St Columb Major in Cornwall, but according to 16th century antiquarian, John Weever, there was an inscription in the Church of St Mary Woolnoth which read "Here lieth Sir John Arundell, Knight of the Bath and Knight Banneret, Receivor of the Duchy...Grey daughter to the Lord Marquese Dorset, who died 8 Febr: the 36 of the reigne of King Hen. The 8". Interesting!
Here's a link to a photo of the memorial brass which depicts him in full armour - https://www.pinterest.es/pin/342344009155130091/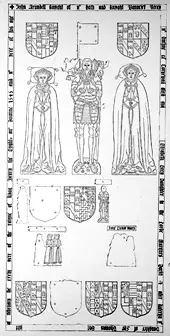 Also on this day in Tudor history...