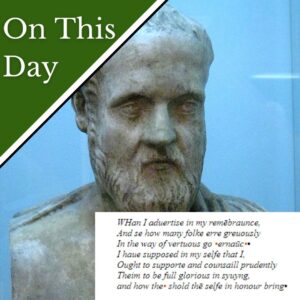 On this day in Tudor history, 22nd February 1571, in the reign of Queen Elizabeth I, translator John Bury died.
Bury was only about thirty-five years old at his death, but he'd suffered a fall from his horse six months earlier. Bury had broken his leg in the accident, a serious injury in those days and one which led to his death.
Bury was survived by his wife, Elizabeth Stafford, to whom he'd been married for seven years, and their young son, Thomas.
Bury, the son of a London draper and merchant, is known for his 1559 work "The Godly Advertisement or Good Counsell of the Famous Orator Isocrates", an English translation of Isocrates' Greek speech Ad demonicum.
You can read John Bury's translation online at https://quod.lib.umich.edu/e/eebo/A68231.0001.001/1:5?lang=en;rgn=div1;view=fulltext
Also on this day in Tudor history...
Image: Bust of Isocrates from the Pushkin Museum with an excerpt of John Bury's translation of his speech Ad demonicum.