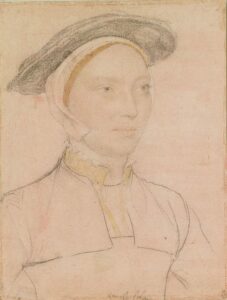 On this day in Tudor history, 20th February 1552, Anne Herbert, Countess of Pembroke, died at Baynard's Castle in London.
Anne was the younger sister of Queen Catherine Parr and served Queens Anne Boleyn, Jane Seymour, Anne of Cleves and Catherine Howard.
Let me give you a few facts about this Tudor countess...
Anne was born in around 1515 and was the youngest surviving child of courtiers Sir Thomas Parr and his wife, Maud Green, a lady-in-waiting to Queen Catherine of Aragon.
Like her sister, Anne was educated to a high standard and learnt French, Italian and Latin, being praised by scholar Roger Ascham for "the perfection" of her Latin.
Anne joined Catherine of Aragon's household as a maid of honour in 1528, and continued in royal service to Queens Anne Boleyn and Jane Seymour.
In 1537, Anne married esquire of the body William Herbert who was known as Black Will Herbert and "a mad fighting fellow". It was said that he had killed a mercer in Bristol and fled to France, but he was back in England serving the king by 1526.
Anne also served Anne of Cleves, for her brief term as queen, serving as gentlewoman of her privy chamber, and keeping this position in Catherine Howard's household. When Catherine was arrested in 1541, her jewels were put in Anne's care as keeper of her jewels. Anne also accompanied the queen to the Tower of London.
In July 1543, Henry VIII married Anne's sister, Catherine, and both Anne and her husband benefited, receiving estates, William being knighted, and receiving Baynard's Castle from Catherine to use as their London home. Anne wasn't just Catherine's sister, she was also her best friend.
Anne was a patron of the arts, loving music and serving as patron to miniaturist Levina Teerlinc, scholars and writers.
Like her sister, Anne was of the reformed religion and, when the queen found out about a plot against her and rushed to see the king to explain herself, Anne was one of the ladies who accompanied her.
In 1547, after the death of King Henry VIII, Anne acted as messenger between her sister, the dowager queen, and the new king's uncle, Thomas Seymour, whom Catherine secretly married just a few months after the king's death.
Despite her religious views, Anne was close to Henry VIII's eldest daughter, Mary, and was recorded as being one of her attendants when Mary rode through London to see the king on 10th February 1552.
Anne died on 20th February 1552 and was survived by her husband and their children, Henry, Edward and Anne.
Anne was laid to rest at St Paul's. Merchant-tailor and diarist Henry Machyn recorded:
"The 28 day of February was buried the noble lady the countess of Pembroke, and sister to the late queen and wife to the noble King Henry the VIII late king, and the good lady the countess of Pembroke the which she died at Baynard's Castle, and so carried unto Paul's. There was a 100 poor men and women had mantel friese gowns, then came the heralds, then the corpse, and about her 8 banner rolls of arms, and then came the mourners both lords and knights and gentlemen, and then came the ladies mourners and gentlewomen mourners 200, then the gentlemen and gentlewomen, and after came in coats 200 servants and other servants, and she was buried by the tomb of the duke of Lancaster. And after, her banners were set up over her and her arms set on diverse pillars."
Unfortunately, Old St Paul's was destroyed in the 1666 Great Fire of London.
Also on this day in Tudor history...
Image: Portrait of an unknown woman, possibly Anne Herbert, Countess of Pembroke, by Hans Holbein the Younger.