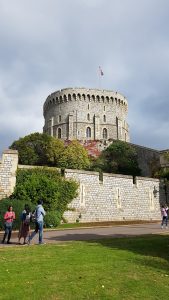 After a breakfast spent gazing out of the hotel window at Windsor Castle opposite, our group had a guided tour of Windsor Castle. Our guide, Amanda, gave us a Tudor-focused tour, giving us an overview of the castle's history and then pointing out the parts built by our very favourite dynasty. She also pointed out parts that we all saw on TV back in May when Prince Harry married Meghan - we walked where George Clooney walked - ha!
We couldn't have asked for a better day as it was lovely and sunny. I think my favourite part was visiting the chapel and saying hello to Henry VIII and Jane Seymour, as well as Charles Brandon, Edward IV and Elizabeth Woodville, Henry VI and a few others, and also seeing the stall plates of some of my favourite Tudor Knights of the Garter. It really is a jaw-droppingly beautiful place.
Another highlight for me was St George's Hall with its ceiling decorated with the arms of all of the Knights of the Garter through the history of the Order. I was able to spot Thomas Boleyn's arms (the three black bulls) and also spot the whitewashed ones of traitors to the crown, such as Thomas Cromwell. Very interesting!
After our tour, we were free to do our own thing. Philippa and I chose to go back to our hotel for a Castle High Tea - sandwiches, cream tea and cakes - before going for a walk by the river and on to Eton College, which was founded by Henry VI. I love seeing the Eton boys walking around the town in their pinstriped trousers, white shirts and black tailcoats!
After a refreshing shower, I headed down for dinner - a lovely three course meal, with some truly delicious veggie options for yours truly. It was then time for me to deliver my talk to the group: Henry VIII: From Renaissance Prince to Tyrant. It was fun exploring the enigma that is Henry, and I will enjoy discussing him with members of the group over the next few days.
Now it's time for me to go to bed so that I'm raring to go for our day out at Hampton Court Palace tomorrow.