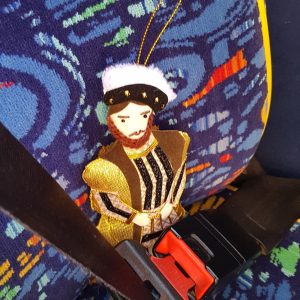 As promised, here is my diary entry for day 1 of the Discover the Tudors tour..
I didn't get much sleep last night as I was buzzing. I was so excited about the tour. I took the train to London early so that I had time to do a bit of shopping and get some lunch before meeting Philippa and the group. I met up with Philippa, my co-leader, for a coffee to catch up and then we headed off to meet the tour group.
We are 15 in all, a group of Brits, Americans and Canadians. We all got on the coach at the right time and then enjoyed the British tradition of getting stuck in a traffic jam on the motorway! It gave us chance to enjoy the lush green countryside and some really bad driving (mad!). The accident looked awful so although it was frustrating to be caught up for a while, it was sobering to realise the cause.
The approach to Windsor was breathtaking as we could see the castle in the distance, and Windsor is stunning, and then it was wonderful to disembark at the hotel and to simply turn our heads to take in the beauty of the castle - yes, it's just across the road!
We had chance to freshen up before a lovely buffet dinner and early night although I'm still buzzing! We raised a glass to toast Roy and Sandy who celebrated their 51st wedding anniversary today. How honoured Philippa and I feel to have them spend such a special day with us on the tour.
Tomorrow, we're off to the castle - yay!
As you can see from my photos, King Francis I, who I first met at Chateau de Blois, has accompanied me on the tour as he fancied visiting England. He seems to be enjoying it so far!
If you'd like to join me and Philippa on a historical tour in 2019 then you can go to https://www.britishhistorytours.com/history-tours to find out more.