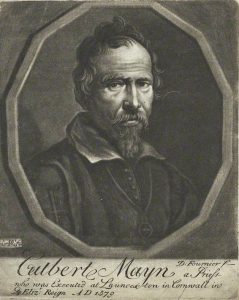 Today is the anniversary of the baptism of Cuthbert Mayne (Main, Maine), Roman Catholic priest and martyr, on 20th March 1544. He was baptised on the Feast of St Cuthbert in Youlston in North Devon.
Cuthbert Mayne has gone down in history as the first seminary priest to be martyred. He was hanged, drawn and quartered at Launceston on 30th November 1577.
Let me tell you a bit more about this man...
Cuthbert Mayne was the son of farmer William Mayne and he was edcuated at Barnstaple Grammar School. His father's boss, Sir John Chichester, acted as Cuthbert's patron and in 1561, when Cuthbert was just 17, got him installed as rector of Hutshaw in Devon. In 1565, he went to St Alban Hall and in 1566 he graduated BA. He then became a chaplain at St John's College and obtained his MA in 1570.
It was at St John's that he was converted to the Catholic faith by Gregory Martin, Edmund Campion and others, who warned him of the "evil state he stood in", and in 1573, they advised him to leave England for Douai. One of their letters to him was seen by the Bishop of London, who dispatched some men to Oxford to find Cuthbert. However, Cuthbert had been warned and so quickly left for Douai, where he was admitted to the English College, a seminary college. In 1575, he was ordained as a priest and in 1576 he obtained his Bachelors in Theology.
In 1576, Cuthbert returned to England and got a position as chaplain and steward to Francis Tregian, a recusant gentleman of Golden Manor, near Probus in Cornwall. Cuthbert celebrated mass at several of Tregian's family estates in Cornwall. In June 1577, after the Bishop of Exeter and Sheriff of Cornwall had decided to crack down on Catholics in Cornwall, Golden Manor was surrounded by a number of Justices of the Peace and a hundred armed men who were intent on searching the property, on the pretext that they had heard that a Mr Bourne, who had committed a crime in London, had fled to Cornwall and was in the house. After being threatened by the sheriff with a dagger, Tregian allowed the men into his house and they went straight to Cuthbert's room. Cuthbert, who was wearing a prohibited Agnus Dei at the time, was arrested, and his papers seized and sent to the bishop.
Cuthbert was then paraded to Launceston Castle where he was imprisoned for three months before being tried at the Michaelmas Assizes. He was charged with traitorously getting hold of a papal bull and publishing it at Golden Manor, defending the authority of the Pope, purchasing a number of Agnus Dei and giving them to people, and celebrating the Catholic mass. He was found guilty of treason and sentenced to death, while his master, Francis Tregian, had his property seized and was sentenced to life imprisonment. In his book Memoirs of Missionary Priests, Bishop Richard Challoner, notes that "there were no sufficient proofs of any of these heads of the indictments" and that the bull was simply "a printed copy of the grant of the jubilee of the past year" and had not been procured by Cuthbert
On 29th November 1577, Cuthbert was allegedly offered mercy if he would renounce his Catholic faith, which he refused to do. He also refused to name any other Catholic recusants. He was also asked to swear on the Bible that Queen Elizabeth I was the Supreme Head of the Church in England: "Upon this he took the Bible into his hands, made the sign of the cross upon it, kissed it, and said, "The queen neither ever was, nor is, nor ever shall be, the head of the church of England"".
Bishop Challoner drew on an account published in 1582 and a Latin Manuscript from Douai in his account of Cuthbert's life and execution. Here is the account of his execution:
"When he came to the place of execution, which was the market-place of the town, where they had on purpose erected a gibbet of unusual height, being taken off the sledge, he kneeled down and prayed: when he was on the ladder, and the rope about his neck, he would have spoken to the people, but the justices would not suffer him, but bid him say his prayers, which he did very devoutly. And as the hangman was about to turn the ladder, one of the justices spoke to him in this manner: 'Now villain and traitor, thou knowest that thou shalt die, and therefore tell us whether Mr Tregian and Sir John Arundel did know of these things which thou art condemned for: and also what thou dost know by them?' Mr Main answered him very mildly: 'I know nothing of Mr Tregian and Sir John Arundel, but that they are good and godly gentlemen; and as for the things I am condemned for, they were only known to me, and to no other' - Then he was cast off the ladder saying 'in manus tuas', etc. and knocking his breast.
Some of the gentlemen would have had him cut down strait away, that they might have had him quartered alive; but the sheriff's deputy would not, but let him hang till he was dead. The Latin manuscript says, "he was, indeed, cut down alive, but falling from the beam, which was of an unusual height, with his head upon the side of the scaffold, on which he was to be quartered, he was by that means almost quite killed; and therefore but little sensible of the ensuing butchery. His quarters were disposed of, one to Bodwin, one to Tregny, one to Barnstable, and the fourth to remain at Launceston castle: his head was set upon a pole at Wadebridge, a noted high-way. The hangman, who embrued his hands in his innocent blood, in less than a month's time became mad, and soon after miserably expired. And it is particularly remarked, that not one of those whom Mr. Maine reconciled to the church, could ever be induced to renounce the catholic truth, which they had learned from so good a master. Mr. Tregian, the gentleman who had entertained him, lost his estate, which was very considerable, for his religion, and was condemned to perpetual imprisonment; and several of his neighbours and servants were cast in a premunire as abettors and accomplices of Mr. Maine: Sir John Arundel was also persecuted and cast into prison upon this occasion."
Cuthbert was canonized on 15th October 1970 by Pope Paul VI as one of the forty martyrs of England and Wales. St Cuthbert Mayne's feast day is celebrated on 30th November.
Picture: Cuthbert Mayne, mezzotint by Daniel Fournier.
Notes and Sources
Trudgian, R. (2008, January 03). Mayne, Cuthbert [St Cuthbert Mayne] (bap. 1544, d. 1577), Roman Catholic priest and martyr. Oxford Dictionary of National Biography. Ed.
Challoner, Richard (1803) Memoirs of missionary priests, and other Catholics of both sexes, that have suffered death in England on religious accounts from the year 1577 to 1684.