In today's "on this day in Tudor history" video, I share the story of William Hunter, a nineteen-year-old apprentice whose trouble started when he was caught reading the Bible to himself in church.
William ended up being burned at the stake for heresy on 26th or 27th March 1555 in his hometown of Brentwood Essex.
Here's a 19th century picture of Brentwood School and the Martyr's Elm, which was planted where Hunter was burned.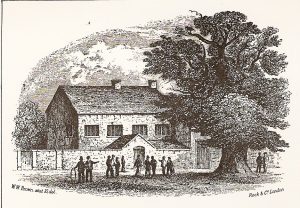 Also on this day in history:
1489 - The Treaty of Medina del Campo was signed between England and Spain. One part of it was the arrangement of the marriage between Arthur, Prince of Wales, and Catherine (or Catalina) of Aragon. It was signed by Spain on this day and ratified in 1490 by Henry VII.
1563 – Death of Richard Pallady, member of Parliament and member of the household of Edward Seymour, Duke of Somerset and Lord Protector.
1599 – Robert Devereux, Earl of Essex, left London for Ireland as Lieutenant General.
1604 – Funeral of John Whitgift, Archbishop of Canterbury, at St Nicholas Chapel, Croydon Minster.
1620 – Death of Edward Lister, Physician-in-Ordinary to Elizabeth I and James I, in Aldermanbury in London. He was buried at St Mary's Church in Aldermanbury.
1625 – Death of James I at Theobalds, Hertfordshire. He was laid to rest in the Henry VII Chapel, Westminster Abbey on 5th May. John Donne gave the funeral sermon. James had been suffering with ill health for a few months, having kidney problems and attacks of arthritis and gout, followed by tertian ague and a stroke. It seems that he died during a severe attack of dysentery. He was succeeded by his son, Charles I.