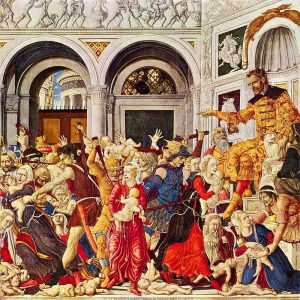 Today, 28th December, is Childermas or Holy Innocents' Day. It was part of the Twelve Days of Christmas in Tudor times and is a feast day that remembers the slaughter of the baby boys ordered by King Herod in Bethlehem when he heard of the birth of the Christ Child, "the Massacre of the Innocents".
The apostle Matthew told of the atrocity:
"16 Then Herod, when he saw that he was mocked of the wise men, was exceeding wroth, and sent forth, and slew all the children that were in Bethlehem, and in all the coasts thereof, from two years old and under, according to the time which he had diligently inquired of the wise men.
17 Then was fulfilled that which was spoken by Jeremiah the prophet, saying,
18 In Rama was there a voice heard, lamentation, and weeping, and great mourning, Rachel weeping for her children, and would not be comforted, because they are not."
King Herod had asked the Wise Men to go in search of the Christ Child, saying "Go and search diligently for the young child; and when ye have found him, bring me word again, that I may come and worship him also". Of course, he didn't want to worship this child, he wanted to kill him as he knew he'd be a threat to his authority. Fortunately, the Wise Men were warned by God in a dream that they should not return to Herod and an angel also appeared to Joseph in a dream, telling him that he should take Mary and Jesus to Egypt "for Herod will seek the young child to destroy him".
The poor children who were victims of King Herod are remembered today by Catholics around the world.
The Coventry Carol, written by Robert Croo, was performed in Coventry on this day in 1534 and it has a verse in it about the massacre:
"Herod the King, in his raging,
Charged he hath this day;
His men of might, in his own sight,
All children young, to slay."
Here is the carol sung by the choir of King's College, Cambridge:
Picture: The Massacre of the Innocents at Bethlehem, by Matteo di Giovanni.