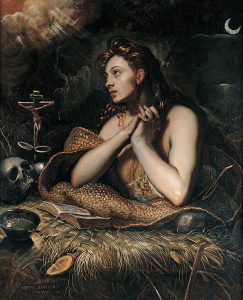 The Feast of St Mary Magdalene (or Magdalen), "apostle to the apostles" and the woman said to have witnessed Christ's crucifixion and resurrection, has been celebrated on 22 July since the 8th century.
In her book Knights Templar Encyclopedia: The Essential Guide to the People, Places, Events, and Symbols of the Order of the Temple, Karen Ralls writes of how, in Medieval times, special fairs were held in Mary's honour on 22 July, how she was the patron of many guilds and how many chapels and buildings were named after her. She was the most widely venerated saint in the Medieval period after the Virgin Mary.
In 1536, during the reign of Henry VIII, the feast of St Mary Magdalene was abolished. In their article "The Reformation", in the book Medieval Norwich, Ralph Houlbrooke and Muriel C. McClendon, explain that magistrates actually "reinvented rather than abandoned it" and that "they established a similar festival - the 'watch' in Pentecost week - to be celebrated at a different time of year from the traditional one." They go on to explain that "the new ceremony continued to feature the mayor and aldermen, dressed in armour and parading on horseback. But it omitted all of the customary homage paid to Mary Magdalen." It went from being a religious feast day to a civic celebration.
Picture: The Penitent Magdalene by Domenico Tintoretto c. 1598, Musei Capitolini, Roma, 1598-1602.