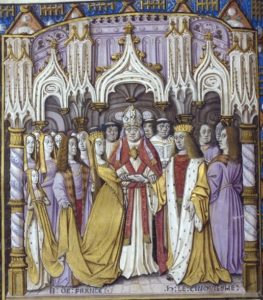 Catherine of Valois was the youngest daughter of Charles VI of France and Isabella of Bavaria. She was born in Paris in the Hotel St Pol on 27th October 1401. Her childhood was beset with struggles as her family managed the divisions between the Armagnac and Burgundian factions in France. Rumours circulated that Catherine was rejected by her mother and her father, who was said to be mentally unwell, and that she would have been abandoned to live in poverty if not for kindly servants. As with all historical rumours, the truth of these claims cannot be verified. This being said, little is really known about her childhood.
We know that Catherine was betrothed in June 1403 to Charles, the grandson and heir of Louis, Duke of Bourbon, however, by 1408, this betrothal seems to have been retracted. In 1408, Henry IV suggested that a marriage between England and France would help to strengthen peace. Catherine's name, therefore, recurs during the diplomacy that took place in the next decade. By January 1414, Henry V stated that he would marry no one else before the 1st May. A portrait of Catherine brought from France in 1415 aided marriage negotiations. However, due to the English campaign at Agincourt, the marriage plans were halted until 1418. Henry and Catherine met at Meulan on 2nd June 1419. The meeting was said to have gone successfully, with Henry V being smitten and determined to marry her, promising to give her 10,000 marks and renouncing his title 'King of France.' Henry's terms were that he be recognised as regent during Charles VI's lifetime. These terms were accepted, and Henry V arrived in Troyes in 1420 to confirm their acceptance. The following day, the betrothal was confirmed, and on 2nd June they celebrated their marriage.
Due to the military campaigns undertaken by her husband, Catherine was present at multiple military events and sieges, such as the surrender of Sens on 11th June 1420. At the beginning of December, Henry V and Catherine processed into Paris and had Christmas in the Louvre Palace. By mid-January 1421, however, they had left for England, where they made slow progress towards London for a formal reception held on 21st February. Catherine was crowned queen by the Archbishop of Canterbury in Westminster Abbey on 23rd February, while Henry roamed the country firing up new enthusiasm for military campaigns. Catherine was showcased to her English subjects, travelling to St Albans to join the king, and they spent Easter at Leicester. Henry V left for France in June, and by this time, Catherine was pregnant. She gave birth to a son at Windsor on 6th December 1421.
Catherine re-joined Henry in France in 1422, however, Henry V contracted an illness during his military campaign, and by June it was making itself known, Catherine remained in Senlis and was absent when he died in Vincennes on 31st August 1422. Following the death of Henry and Charles VI, Henry VI, at nine-months-old, became the joint heir of France and England, and Catherine was only twenty-one. Catherine accompanied Henry V's body back to England for burial, and the funeral was held on 7th November. She was granted a dower of £6000 and was granted the Lancaster estates. Catherine's role during her widowhood appears in records as ceremonial as she accompanies her son to sessions of parliament. By 1425, rumours were circulating about Catherine and her relationship with Edmund Beaufort, which resulted in a statute that forbade the queen to marry without royal consent lest she forfeit her lands. Catherine continued to appear with her son despite these rumours, and was present at her son's coronation on 6th November 1429. Despite the statute forbidding Catherine from marrying, she married a Welsh squire, Owen Tudor, between the years 1428-1432. The circumstances of their meeting are unknown and largely speculated.
By 1432, Owen Tudor had been given the rights of an Englishman, which protected him against legislation directed at Welshmen. By 1434, Catherine had granted him favours in terms of her Flintshire lands and she gave birth to sons, Edmund Tudor and Jasper Tudor, and a rumoured third son, Owen Tudor. By 1437, however, Catherine's health had begun to fade as she became increasingly unwell and frail. In 1437, she retired to Bermondsey Abbey and died on 3rd January. Catherine was buried in Westminster Abbey. Henry VII replaced the initial inscription on his grandmother's grave with one that mentioned her second marriage to his grandfather Owen Tudor. In 1503 her body was placed beside King Henry V.
Now this is where things get a little strange- her body had become strangely preserved, and from the 16th to the late 18th century, she was often put on display. In 1669, Samuel Pepys kissed her embalmed body and wrote in his diary that he kissed a queen on his birthday. In 1878 however, Catherine was once again laid to rest in her current place in Henry V's chantry.
Article by Georgia Whitehead
Georgia has just finished her masters in Classics at the University of Edinburgh. Academically, Georgia is interested in early Christianity, with her master's thesis focusing on "The Male Gaze and Self-Representation in Female Christian Narratives". In addition to her interest in ancient history, she has always been an avid lover of the Tudor era, drawn to the magnificence of the Tudor courts and the larger than life characters. She is particularly interested in The Reformation, Christianity and the shifting sands of ecclesiastical politics in this period and also has a keen interest in the lives of Tudor women. It is Georgia's ambition to become a writer, perhaps publishing her own Tudor novel one day.
Georgia also runs a history blog and instagram page called Historia Mundis.
Picture: The wedding of Henry V and Catherine de Valois, from the Grandes Chroniques de France, Calais?, 1487: Royal MS 20 E VI, f. 9v, British Library.
Bibliography