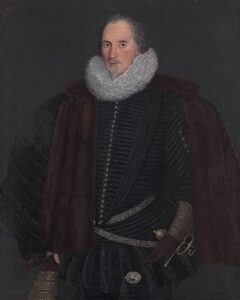 On this day in history, 15th April 1623, Sir John Scudamore was buried at his home, Holme Lacy, following his death the previous day.
Scudamore served Elizabeth I as standard-bearer of the gentleman pensioners and his second wife, Mary Shelton, was related to the queen and was one of her ladies of the privy chamber.
Here are some facts about Sir John Scudamore:
He was born on 1st February 1542, in the reign of King Henry VIII, and was the eldest son of William Scudamore and his wife, Ursula Pakington.
Scudamore's father died in 1560 and the boy's wardship was granted to Sir James Croft of Croft Castle, Herefordshire, who arranged his marriage to his daughter, Eleanor, who sadly died in 1569.
In 1569, Scudamore entered the Inner Temple.
In 1572, he was made a gentleman pensioner and was knighted in 1592.
In 1574, Scudamore married his second wife, Mary Shelton, daughter of Sir John Shelton of Norfolk. Mary helped her husband rise at court due to her close relationship with Queen Elizabeth I. His friendship with the Earl of Shrewsbury and his wife also helped.
Mary Queen of Scots claimed that when Elizabeth I found out Scudamore had married her Mary, her lady, she broke one of Mary's fingers in a temper and tried to cover it up by claiming a falling candlestick had caused the injury. Mary, Queen of Scots had heard the story from a friend of the victim and a maid of honour backed up Elizabeth's bad treatment of Scudamore's wife, saying that she'd suffered "blows and evil words".
In 1599, Scudamore was made standard-bearer of the gentleman pensioners.
The Scudamore children included Sir James Scudamore, who was baptised in 1568 and who is thought to have been a model for Sir Philip Sidney's "Sir Scudamour" in his "Faerie Queene". James was close to the Earl of Essex and accompanied him on voyages. Father and son were also patrons of the Bodleian Library.
Also on this day in Tudor history...