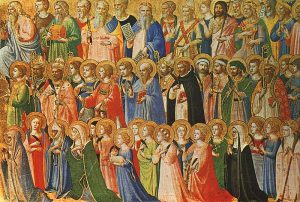 All Saints' Day, which is also known as All Hallows or Hallowmas, is part of the three days of Hallowtide: All Hallows Eve (Halloween), All Saints' Day and All Souls' Day. It was celebrated in Tudor England on 1st November every year.
All Saints' Day was a feast day in honour of all the saints and martyrs and was established because there were not enough days in the year to commemorate the lives of all the saints. Pope Urban IV said of it: "Any negligence, omission and irreverence committed in the celebration of the saints' feasts throughout the year is to be atoned for by the faithful, and thus due honour may still be offered these saints."
All Saints' Day is still a national holiday in many Catholic countries today and our church bells here in Spain have just been ringing out to call people to mass. Our shops have been filled with candles and flowers over the past week or so and today families take flowers and candles to the graves of their loved ones. It is a day to remember loved ones, but also to celebrate life.
Picture: The Forerunners of Christ with Saints and Martyrs, attributed to Fra Angelico.