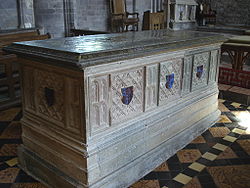 Today marks the anniversary of the death of Edmund Tudor, 1st Earl of Richmond, on 1st November 1456. He died from the plague at Carmarthen Castle.
Thank you to Sarah Bryson for writing this article on Edmund for us.
Henry Tudor, King Henry VII, was the founder of the Tudor Dynasty. His mother was the imposing Margaret Beaufort who risked everything to see her son on the throne and in turn the houses of Lancaster and York united through the marriage of her son to Elizabeth of York, daughter of Edward IV. But who was Henry Tudor's father? While so much is known about Henry's mother, his father is a much more elusive figure and sadly he did not live to see his only son and heir claim the English throne.