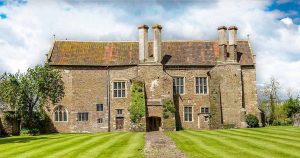 The gardens of Acton Court, a lovely Tudor house that had a wing built for Henry VIII and Anne Boleyn's visit on their royal progress of 1535, will be open to the public for three National Garden Scheme Days in June, and the house and grounds will be open for three Heritage Open Days in September.
National Garden Scheme Open Days
Sunday 2 June
Sunday 9 June
Sunday 16 June
11am - 5pm
Adult: £5 Pay at the Door
Children: Free
Visitors will have the opportunity of seeing a wide variety of early English, wild and traditional roses in Acton Court's walled South Court.
Light refreshments will be available.
Special events on these days:
2 June - The Tudor Garden - A Rose walk with Historic Gardener Mike Brown - 11:30am, 1:30pm, 3pm, Tickets £12 (Includes £5 NGS Entry to the Garden).
9 June - Nature and Wildlife - The Hawk and Owl Trust will be on site with their birds, the Acton Court Bee Man, Dan Gillians, will have an exhibit of his bees, Organic Blooms will have a stall concentrating on flowers and plants that encourage wildlife, and Broadcaster Chris Sperring MBE will be conducting Nature Walks in the grounds at 12:00 and 2:30pm. All events included in £5 ticket.
16 June - The White Rose and the Red: A Tudor concert, Music from the Age of Richard III and the early Tudors performed by The York Waits with Deborah Catterall, singer. 3pm, tickets £20 (including £5 NGS entry to the garden).
Heritage Open Days
Friday 13 September
Saturday 14 September
Sunday 15 September
Blue Badge Guided Tours of House and Grounds
Light refreshments will be available.
Tour times:
Friday 13 and Saturday 14 September: 11am, 11:30am, 12pm, 2pm, 2:30pm, 3pm
Sunday 15 September: 11am and 12pm
Tickets will be available from June
Admission is free but reserve a place online
Sunday 15 September: The Odhecaton 1501 - A Musical Revolution, concert, 3pm, Tickets £20 | £18 concessions
For more information and for bookings, go to http://www.actoncourt.com/events