Sadly, Prince Philip passed away on the 9th of April 2021 at the age of 99. On Saturday the 17th of April the funeral will be held at St. George's Chapel at Windsor Castle. Nowadays, a royal funeral is no longer for the family alone, all the world can watch it online. This was very different for the Tudors. What were their funeral traditions?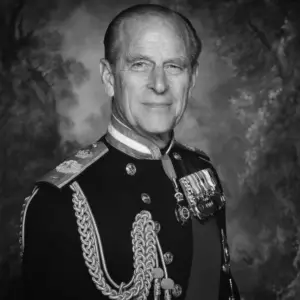 Prince Philip
In this article we will focus on the funeral of Queen Elizabeth I, but if you are interested in more, there will be links and videos below.
The funeral of Elizabeth I
The Virgin Queen died on the 24th of March 1603, ending the Tudor Dynasty. More than a month later, the funeral of the queen took place in London. Her body was placed inside a lead coffin which was carried to Whitehall by night in a torchlit barge along the Thames. On top of the coffin, a life-sized effigy dressed in her royal robes was positioned.
On 28th April, her coffin was brought to Westminster Abbey on a hearse drawn by horses for the funeral. On top of the coffin, lay a rich purple cloth and the effigy of Elizabeth with a sceptre in her hands and a crown on her head. Above the coffin, a canopy was supported by six knights. The lavish funeral cost King James I/VI over £11,000. Elizabeth was buried in the vault of her grandfather Henry VII. Later, she was moved to her present resting place: a tomb in the Lady Chapel in Westminster Abbey with her half-sister Mary I.
Learn more
These articles and videos are for members only. Not a member yet? Try our 14 day free trial!